We left Punta Arenas two days ago, and this afternoon we passed the southern tip of South America, steaming steadily passed Cape Horn and down into the Drake Passage.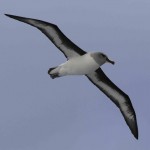 grey-headed albatross
The seas have been calm for most of the day, and in the last fading light we remarked about how tranquil it seemed as we cruised southwards. Hopefully it will remain that way.
Despite these relatively calm seas, we've had some brisk winds and rain today. Temperatures varied throughout the day between 7 to 10 C, but the damp wind made it feel much colder. Regardless, most of us spent some quality time out on the weather decks trying to catch glimpses of the fascinating wildlife we are starting to encounter- and to try to take some photos of these creatures. While traveling south along the Argentinean coast the RV Gould was at times escorted by small groups of Peale's dolphins along with Cape petrels, giant petrels, Southern fulmars and black-browed albatrosses – all new species for me. We encountered the largest concentration of seabirds as we steamed passed a large ocean trawler in the Straits of Lemaire, and it was there I was introduced to the awesome wingspan of the wandering albatross and the subtle beautiful of the grey-headed albatross.
In preparation for this trip, my shipmate Ari Friedlaender gifted me with an excellent book to read while we made our way to and from the Antarctic Peninsula – Logbook for Grace, by Robert Cushman Murphy. Murphy was a renowned naturalist and ornithologist that spent time aboard a whaling brig (Daisy) that journeyed from the Caribbean to South Georgia. His collected notes were ultimately published in a number of scientific papers, and the Logbook for Grace recounts the tale of the people involved in the trip in the form of a logbook for his wife. I think Ari chose wisely for me, as my thoughts often turn to my wife Kerry – wishing she could share this adventure with me directly, and to my daughter Rosemary, who I hope one day has the luck to undertake a voyage such as this.
Cushman's Logbook for Grace describes a similar assemblage of wildlife at these latitudes, with the Daisy being escorted by the smallest of the "Mollymauks" (Albatrosses, specifically black-browed) and Cape "Pigeons". Cushman also spent time in these conditions (and much worse!) trying to photograph the wildlife:
"This morning, braced in the spare whaleboat across the stern, I photographed albatrosses and other birds until my hands, arms and neck practically froze in the 'Graflex posture.' Then I came in to thaw out in the cabin…"
As I write this we are passing 55 degrees 33 minutes South, at about 64 degrees 47 minutes West. If you want to follow the RV Gould throughout our trip point your browser to http://sailwx.info. Once on that website, enter the Gould's callsign – WCX7445 – in the query box on the bottom left hand corner of the main page. That should show you exactly where we are.
It's dark outside and the Gould is steaming along with a gentle rocking motion that is calm and comforting. I think it is time for me to retire with my book and find out what I'm likely to see tomorrow in the Drake, if the weather holds.
Happy Earthday everyone!