What we don't have…. 1) Cars; 2) Houses; 3) Roads; 4) Interdepartmental email; 5) Alcohol
What we do have….
1) A fine ship
2) An excellent captain and crew
3) An exceptional group of smart, dedicated people
4) An untouched wilderness full of breathtaking scenery and animals
5) A limited amount of time to get everything done!
By way of introduction, I'm Andrew Westgate from the University of North Carolina Wilmington.  I'm one of the new guys on the team.  I have one of the easier jobs on this cruise…keeping track of tagged whales during night-time operations.  I will provide a detailed account of this in a later Blog post (for those of you familiar with the Blog, let's just say I will be "Updating" Dave J's now infamous post on the ups and downs of radio tracking!!!) so stay tuned!
Yesterday turned out to be a different kind of a day for the MISHAP team. We started off the day in Andvord Bay.  The goals were to conduct visual surveys (we count krill predators from the bridge of the Palmer to estimate their abundance), and also attempt to put a D-tag on a Minke whale.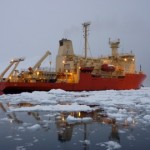 The former was a fairly straightforward process, however, the latter was more akin to looking for a golf ball in a snow storm!  Minke whales are small, fast and cryptic and are difficult to find in all but the best sighting conditions.  Luckily I got the nod to go out with Ari and Alison to attempt  "Mission Impossible".
We launched the small boats in the middle of the Bay in rather dense pack ice.   Moving through the frozen stuff is slow but our very capable Zodiac captain Jullie did an excellent job maneuvering our small rubber boat around, over and through the floating blocks of ice.  It wasn't long before we heard Doug on the radio indicating that the Palmer survey team, who were off doing their survey, had spotted a couple of Minke whales.  We slowly made our way to the position and found a single whale surfacing in a small lead in the ice.  Our strategy was to move into the lead and wait for the whale to resurface.  Unfortunately the whale decided not to cooperate; I guess it never got the memo!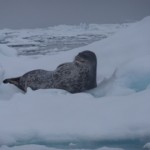 We spent the rest of the day in the pack ice searching and although we never saw another Minke whale, we did get excellent looks at Weddell, Crabeater and Antarctic fur seals.
The highlight of the day was a quick trip ashore at Neko Point.  This small cove in Andvord is partially flanked by low-sloping, sand gravel beaches which make shore landings possible.   We hit the beach around noon and were immediately greeted by a group of gentoo penguins who also take advantage of the topography to jump out on shore.  It was my first experience with a wild group of these magnificent seabirds.  Amazing creatures!  Ari also spotted a lone emperor penguin trying desperately to blend in with his cousins!  
It wasn't long after we returned to the ship that word came up that the CTD winch had packed it in for good.  We had a number of options to remedy this problem but decided that the most prudent plan of action would be to travel to Palmer Station to pick up the winch part that we desperately needed.  Luckily our location in Andvord put us in close proximity to the Station.  We set off around 1800 and arrived around 2300.  Small boats were sent ashore to collect the parts and send some larger files back to NC by way of the coveted internet link that was available.  Dave and Doug bravely volunteered for this task!  Details of the trip are sketchy but the winch parts were secured and the files sent (mostly!).
From Palmer we steamed to Flandres Bay (one south of Andvord).  I was told that this was a first time survey for the MISHAP team so everybody was excited about what we might see!  I can assure you that if there are
humpbacks in this Bay then at least one will be carrying a D-tag before the sun sets!
As a final note I would like to send out all my love to my wife Heather who is bravely soldiering on back home in Wilmington.  Tomorrow is a special birthday for her and I wish I could be there to share it with her.
Unfortunately family celebrations will have to wait, but I hope that this picture makes you smile!!