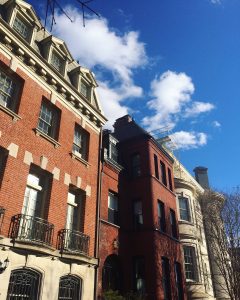 Arriving in the Dupont Circle district of Washington, D.C. one recent Thursday morning, I gazed out our car window, in awe of the colorful homes and eclectic buildings that neatly lined each block. As I reminisced of cities I had visited in Europe, we parked our car and walked towards the building where our event was taking place, a historic brownstone located next to the Bulgarian Embassy.  "Washington D.C. has a certain type of energy," one of the event speakers would later say, similarly in awe of the city in which he worked. "This is where people come to make a difference."
Coastal Conversations is an event put on each year by Duke's Ocean Policy Working Group, and features a panel of Nicholas School alumni who work in marine management, policy and science fields in the D.C. area. An excellent networking opportunity for Nicholas School MEM and PhD students, several us drove up from Durham and Beaufort this February to attend this year's event.
This year's panelists included Nichola Clark (Associate, Protecting Life on the High Seas, the PEW Charitable Trusts), Jessica Ritter (Senior Policy Specialist, Gulf of Mexico Restoration, National Wildlife Federation), Brian Hooker (Biologist, BOEM), Rose Kwok (Environmental Scientist, EPA) and Lisa White (Marine Resource Management Specialist, NOAA). As Nicholas School MEM alumni, they all shared their stories and words of wisdom with us on topics ranging from how to break into the D.C. career scene to how to not stress (too much) about our Masters Projects.
Each panelist represented a diverse sector of marine policy, science or management fields, and hearing their stories about work post-graduation provided insight for many of us who attended.
"A lot of elements of working in international waters are like the wild west," said Nichola Clark, who works to track and analyze policies for the high seas at the PEW Charitable Trusts. "We have the opportunity to create policy from nothing, and start out on the right foot."
Several alumni also provided advice for us post-graduation, when many of us will have started our full-time positions.
"Remember why you started," said Jessica Ritter, Senior Policy Specialist with the National Wildlife Federation who works on programs to protect and restore the Gulf of Mexico coastal area. "You're engaged in a field that's moving in real time, and the work we're doing fundamentally matters."
Clark and Ritter were both Knauss Fellows after graduation, a one-year program in Washington, D.C. focused on marine policy. Their Knauss fellowships, Clark's in the executive branch and Ritter in the legislative, helped them find their current positions.
"There's a great network of alumni. Use that network," said Brian Hooke, reminding us to utilize the connections made possible by our time at the Nicholas School, both through informational interviews and events such as this.
Many thanks to Whitney Roberts (OPWG Action Team Coordinator, MEM '18) for organizing this year's Coastal Conversations! Email us at DukeOPWG@gmail.com to get involved in the Ocean Policy Working Group's upcoming events, or visit our website.