We know all too well the dangers that climate change poses to our society. More intense hurricanes, like Florence and Michael, destroy lives all along the southeastern coast; a hundred million trees now dead in the Sierra Nevada Mountains after years of drought and insect outbreaks; Seattle choked by smoke for weeks on end as fires rage in nearby forests. You don't need to be a scientist to see the writing on the wall, but scientists from around the world have weighed in anyway with a new peer-reviewed report that shows we have little more than a decade to act before serious climate change impacts are locked in for generations to come.
My concern for our climate led me to pursue a Master of Environmental Management in environmental economics and policy, and one key lesson I learned through my studies is how to fight climate change with economics. Carbon dioxide pollution, like contaminants in drinking water or plastic in the ocean, is what we call a negative externality—something that harms society but that no one foots the bill to clean up. Luckily, as any economics professor will attest, there's a simple solution: put a fair price on the thing doing the harm, and society will produce less of it.
Putting a fair price on carbon pollution is exactly what my home state of Washington has a chance to do this November, as voters decide whether to enact Initiative 1631. I-1631 would place a fee on every ton of greenhouse gases emitted by corporations and consumers (with a few exceptions). The fee would start at $15 per ton of carbon dioxide (about 13 cents for a gallon of gas), and would rise by $2 annually until Washington meets its 2035 climate change goal—which would require the state to reduce greenhouse gas emissions to 25% below their 1990 levels—and is on track to meet its more ambitious 2050 climate goal. Revenues collected from the fee would be invested in clean energy, clean water and healthy forests, and local communities.
If Washingtonians do put a price on carbon with I-1631, we will be in good company. Just today, Prime Minister Justin Trudeau announced his plan for a federal carbon fee in Canada. California and Quebec have had a joint carbon price for years now, as have nine northeastern states from Maryland to Massachusetts, though they all use a different policy mechanism known as cap-and-trade. Washington's neighbor to the north, British Columbia, has had its own carbon tax for over a decade.  These states and provinces have shown how a price on carbon can translate to lower emissions and growing local economies.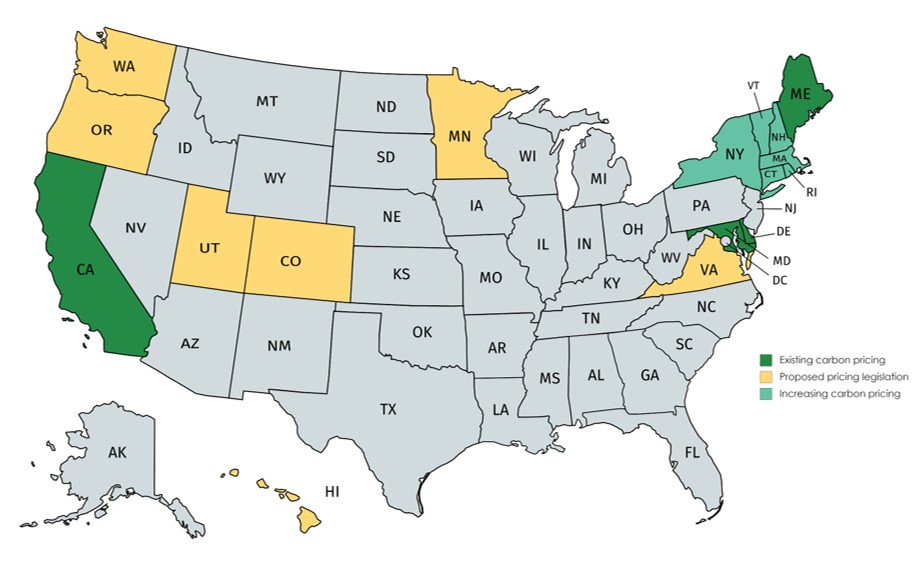 Despite the proven track record of policies that put a price on carbon, Washington's airwaves are drenched with opposition ads warning voters of the dangers of I-1631. Big corporations will get a free ride, they say, while small businesses and families pay billions. But these ads are not run by small businesses or concerned families, they are sponsored almost exclusively by major oil companies.
The reality is that I-1631 does offer some exemptions, but only to a power plant that has already agreed to transition away from burning coal by 2025 and to a select few industries that are considered "energy intensive and trade-exposed"—in other words, they could not adapt to a carbon price without losing competitiveness and jobs to out-of-state businesses. As for Washington's families and small businesses, the Washington Budget and Policy Center estimates that the initiative will raise costs for the average household by an average of just $13 per month.
I-1631 also mandates that a portion of the carbon revenues go to specifically helping the communities most impacted by pollution. That's in part why groups that represent working Washingtonians—including the Tenants Union, labor unions like UFCW 21, and the Latino Community Fund—overwhelmingly support I-1631 (Seattle Times columnist Jon Talton is on board, too, with a good explanatory piece out last month.)
I'm personally excited about I-1631 because it gives Washington the opportunity to lead the nation, and the world, in acting on climate change at the time we need it most. But that's not the only reason to get excited: whether it's the chance to build a new clean energy economy in Washington, provide opportunities to working communities and communities of color, or protect clean water and healthy forests for future generations, I-1631 offers something for everyone in Washington.
It's an exciting future for our state. We just have to vote yes.