In many election campaigns, "Washington" is a dirty word. It's code for special interests, political patronage, partisan squabbles – everything we hate about the way our federal democracy functions. Trump's calls to "drain the swamp," whether or not they were sincere, resonated with large swaths of the American people for a reason (and not just because they've experienced D.C. humidity in the summer).
As a Master's student concentrating in environmental policy, then, it was only fitting that I should spend my summer internship familiarizing myself with life in the swamp. Hello, Washington D.C. (Cue sinister "House of Cards" theme song.)
Of course, I was entering the swamp as what I would consider one of the "good guys": an intern with the National Parks Conservation Association.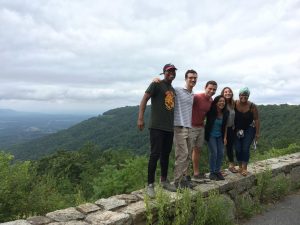 The National Parks Conservation Association (NPCA) was founded nearly a century ago by Robert Sterling Yard and Stephen Mather, who also served as the first director of the National Park Service. Mather wisely recognized that America's fledgling system of national parks might not always be safe from meddling by the federal government. (Did he know what would happen in 2017?) Three years after the founding of the Park Service, Mather helped his friend Yard establish the organization that would become NPCA, a citizen's watchdog group committed to the preservation of the country's most sacred natural places.
Given that storied history, I felt very fortunate to land a position with NPCA through Duke's Stanback Internship program.
Unusually for a D.C.-based internship, my main project this summer has little to do with politics. Instead, I've been creating stories about how air pollution and climate change impact national parks, based on personal interviews around the country. (More on that in my next blog post.)
But even though it wasn't the focus of my work, I still managed to get a taste of the political drama that D.C. is (in)famous for.
The first month of my internship coincided with "appropriations season" on Capitol Hill, when Congress tries to put together a budget for the upcoming fiscal year. That involves a lot of hearings, as the congressional committees meet with every agency head. I attended two of them, where EPA Administrator Scott Pruitt and Secretary of the Interior Ryan Zinke faced the Senate Appropriations Committee.
As much as I'd been warned about how excruciating these hearings could be, I relished the chance to watch how federal policymaking works live and in person. For once, I could hear senators and cabinet members unfiltered by the news media or late-night comedy. It was up to me to decipher the political and technical jargon to figure out what the politicians were actually talking about. (This was especially difficult with Pruitt, a master at saying things that sound good and mean nothing.)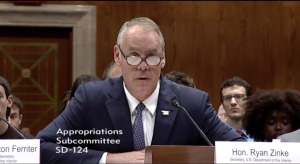 In return for all my keen observational deciphering, I landed myself on the live webcast from Secretary Zinke's hearing. Pro tip: Don't sit in the middle seats unless you want to be unwittingly on camera for two hours.
More recently, I accompanied a colleague of mine to EPA headquarters as he gave testimony at a public hearing on Administrator Scott Pruitt's proposal to delay stronger standards for methane pollution from oil and gas wells.
Entering the hearing room, where three tired-looking EPA staffers at a long mahogany table presided over the proceedings, I felt a bit like I'd just stepped onto the set of "Parks & Rec" – except none of the staffers remotely resembled Leslie Knope.
Observing the hearing was a fascinating window into the public comment process that is integral to federal policymaking. My colleague had the last speaking slot of the morning, so before he went on, I heard comments from an impressive variety of people who were concerned about the EPA's proposal. There was a representative from a gas drilling company advocating responsible drilling practices; there were Native Americans worried about the impact that gas drilling would have on their lands; there were children under the age of 10 talking about the health problems they'd had living nearby to drilling operations.
Everyone who spoke that day was opposed to delaying the methane rule. And the outpouring of public opposition appears to have paid off: last week a judge ordered Administrator Pruitt to implement the methane rule that he'd been trying to delay.
It's the small victories like that that make the political rigmarole of D.C. bearable and worthwhile. I'm proud to intern for an organization that plays such a vital role in standing up to our government when it loses sight of its mandate to protect our air, our water and our wild places.
Sometimes, to clean things up, you've got to get your hands dirty in the swamp.