In all my travels, I have never found a city quite like New Orleans. Houses painted every color of the rainbow. Foot-tapping jazz bands playing every bar, club and street corner. Trees wearing Mardi Gras beads instead of leaves.
But as wonderful as New Orleans is, sustainability has never been its strong suit. Recycling in the city is sporadic at best. Giant potholes make bicycling a dubious commuting choice. And, of course, New Orleans long ago paved over its natural hurricane-buffering wetlands. Its defense against rising seas now falls almost completely to a network of manmade levees, whose breaking point we now know too well.
Over the first week of 2018 I took in all the sights, sounds and delicious smells of New Orleans, with my girlfriend as a tour guide. She spent two years in the city rebuilding houses post-Hurricane Katrina, so she'd seen her fair share of urban blight and renewal. Still, she shared my surprise at just how much has changed in New Orleans over the last few years.
More and more, as the city rebuilds, it is embracing development that is both environmentally and socially sustainable. Here are a few of our sustainable-New Orleans highlights:
Crescent Park is hidden from the rest of New Orleans by a rusted-out retired rail line, making it feel like the city's best-kept secret. The 1.4-mile walking path through the Bywater and Marigny neighborhoods opened in 2015, and offers dazzling views of the downtown skyline across the Mississippi River.
Featuring 20 acres of landscaping with native plants and industrial wharves repurposed as communal open spaces, the park lends the New Orleans waterfront a new sense of place and community. It reminded me of New York City's much-acclaimed High Line, but (at least on a cold January day) mercifully without the hordes of tourists.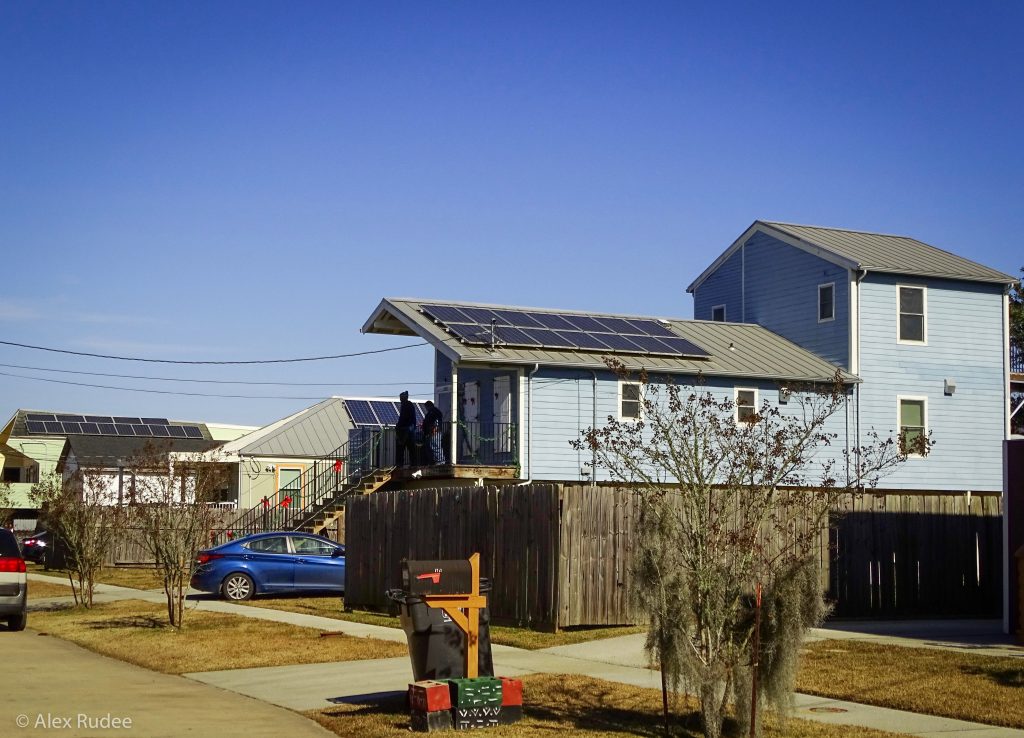 The Lower Ninth Ward was among the hardest-hit neighborhoods by Hurricane Katrina. Over 10 feet of water submerged this predominantly African-American community when levees broke during the storm. Twelve years later, the residential blocks are still littered with overgrown empty lots where houses once stood. Much has been written about the unacceptably slow pace of recovery in this area, but during my visit I was equally struck by the sustainable vision of what has been accomplished.
The Make It Right Foundation, famously started up by Brad Pitt in 2007, is one of several rebuilding organizations that have focused on constructing modern and sustainable homes that pay homage to the singular character of New Orleans architecture. The house pictured above maintains the "camelback" style common throughout the city, but adds a raised foundation for better flood resilience, solar panels for energy security and LEED-Platinum energy efficiency measures to keep utility bills low during the sweltering summer months.
The Lower Ninth Ward is also beginning to restore native wetlands through projects like the Sankofa Nature Trail and Wetland Park. In addition to providing much-needed access to nature for the community, projects like these strive to make this especially low-lying part of New Orleans more resilient to future natural disasters.
The 2.6-mile Lafitte Greenway connects New Orleans' Mid-City and Treme neighborhoods to the French Quarter via Louis Armstrong Park, pictured above. Since its 2015 opening, the greenway has earned a place as the "crown jewel" of the city's emerging network of cycling paths. An outdoor community pavilion will be built along the greenway in the new year as New Orleans' revitalization efforts continue.
As my girlfriend and I walked the length of Lafitte Greenway on our last evening in New Orleans, I was amazed by how much more I appreciated the city, with its wide boulevards, hidden parks and colorful neighborhoods, by traveling on foot.
There remains much work left to do before New Orleans truly shakes off the echoes of Katrina, but what I saw there makes me sure that the Crescent City is up to the challenge. With new parks, wetlands and sustainable communities rising from the banks of the Mississippi, it really does feel like a new year in New Orleans.