As usual, we met at Turtle Camp at 7:30, ready for the long night of patrols. I made sure to cover my ankles and arms with bug repellent cream, and finally remembered to pack my rain jacket. Alessandria thankfully let me borrow her socks for the blisters on my feet. The meeting was quick, since we were running late for our first patrol, and instead of splitting up into two groups of four, like we usually do, we split up into three groups: one of two and two of three. This way less people would have to patrol the less-desirable, grassy side of Sandy Point. Luckily for me and Alessandria, we happen to prefer the longer walks and rests on this side. Jeremy, who has spent plenty of nights alone patrolling there, led us, while assuring us that time eventually cures the fear of the person-shaped palm trees and isolation. This was my first time using one of the small chairs that the expert patrollers carry around, as opposed to simply shoving my backpack behind my head and laying the rest of my body directly on the sand. I learned that this was the secret to minimizing sand flea bites. Most nights I don't talk as much as my peers, but listen to their conversations and try to identify constellations that I googled earlier in the day. Tonight the clouds covered most stars, giving me the opportunity to have long conversations with Alessandria and Jeremy. We told jokes and stories of life at Duke and Jeremy told us about his life and career opportunities as a marine biologist. After walking two lengths of the beach and almost two hours later, we joined the team on the sandy side, where we came together as a larger group of four students and two leaders. We called it a night after patrolling up until 12:30, unfortunately seeing no turtles. I don't know where the saying "just a walk on the beach" came from, because the walks repeatedly leave my backpack drenched in sweat and my legs sore. The car ride back to the cottages was quiet, as I believe most of us were falling asleep.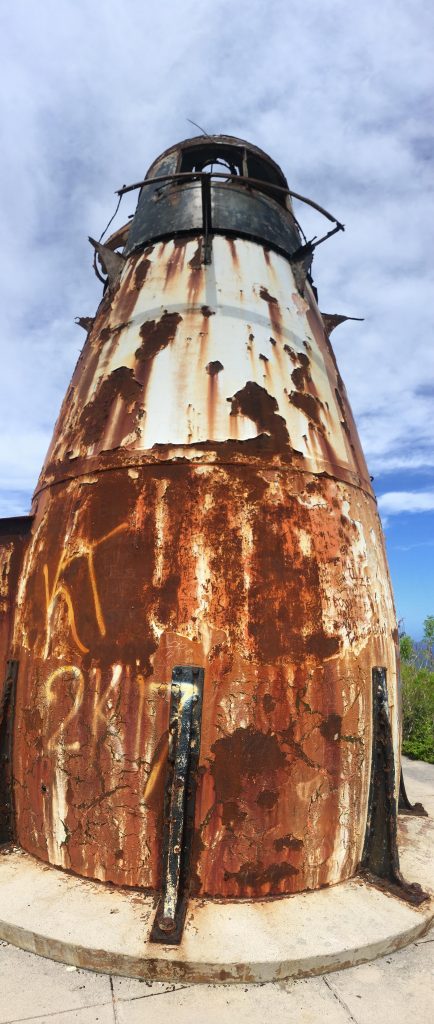 The next morning we woke at 9:00 am for the lighthouse hike! None of us knew what to expect, and the long car ride left us feeling even more anxious. We arrived at the base of a small hill, covered in beautiful, wild, green vegetation in front of a teal-transitioning-to-deep-blue sea. The hike was steep, but rewarding, for the view at the top was second to none. Dense groups of yellow, white, and black butterflies engulfed us as we marched up the trail. I ran up the last stretch of mountain to see a three-story, rusty lighthouse, with the names of previous visitors covering the structure almost completely. Aurora found a place to carve our own marking, "DUML '18" (Duke University Marine Lab). I attempted to climb to the top floor of the lighthouse, but when a gecko made me jump backwards and I noticed that some spots in the floor were rusted completely through, I decided against it. We hiked down much quicker than we were able to go up, easily prancing over the fallen telephone wires and branches of a post-Hurricane Maria St. Croix. Our next stop to see wild pigs was unfortunately cancelled after encountering a large portion of the road underwater.
We returned to the cottages to nap, and read papers, until 3:30 when we discussed the Gray 2007 publication, lead by D'amy and Alessandria. We discussed what defines an eco-tourist and volunteer-tourist, and how these are different than a traditional tourist. We pondered which category we defined ourselves as, which we unanimously agreed isn't any category, and that we saw ourselves as simply students. Afterwards we prepped our dinner, the theme being breakfast for dinner, stopping at 5:00 to hear a presentation on the Leatherback Project for the visitors of Cottages by the Sea. It was led by the permanent Turtle Team, covering the basics of what they are doing and how their efforts contribute to the scientific community. It was great to see how engaged and excited the community was about the project! We ate outside turtle camp like we usually do, then headed back inside to hear a talk from Ayaka Asada on her research concerning the behaviors of leatherback turtles in the waters off the nesting beach, between successive clutches laid during the season. So far, all her data suggest that feeding does not appear to be a primary activity during swimming, but instead perhaps for shark avoidance in shallow waters. It was a day full of adventures, learning, and beauty, but that's every day in St. Croix for these Dukies.