Today we said goodbye to Isla Culebra, excited for the adventures to come in St. Croix. At 5:15 this morning we loaded our suitcases into the Jeep and grabbed some pastries from a local shop before boarding the ferry around 6:30. We all sat on the top deck to avoid feeling queasy and enjoyed the morning breeze on our way to San Juan. From San Juan we squeezed our group into a few taxis and continued on our transit to the airport. We enjoyed our last Criolla food in the airport and embarked on the shortest leg of the voyage – the twenty-minute puddle jump to St. Croix, our final destination!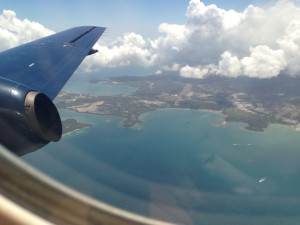 After arriving at our rental cottages and unwinding for a bit, we headed to town for dinner. A power outage had struck the area, but we turned it into a fun occasion in Lost Dog Pizza, where we created lamps made out of cell phone flashlights and water bottles.
Around 8:00 this evening, Nerine, Kelly, Lauren E., and I went out with our professor Kelly to Sandy Point for our first turtle night patrol. Jen, the leader of the research team we joined for the evening, explained to us the procedure for the night patrol. Groups of researchers and interns were to walk along the beach every 45 minutes, trying to spot a leatherback turtle nesting. We joined in on the patrol, and within the hour we heard a message delivered over the radio informing us that a nesting turtle had been spotted! We practically sprinted over to the nesting site, filled with adrenaline in anticipation of our first leatherback sighting. We arrived in time to see her drop her eggs, and we got to take a close look at her too. She was huge (to my newbie eyes, at least), with a carapace about 160 cm long. She bore inch-thick propeller slashes and various bites, and I was surprised to hear that she was expected to recover quite quickly from this damage. After she finished dropping her eggs, she methodically covered her nest and arduously retreated into the water.
At 9:45pm my excitement escalated with the appearance of a second turtle. This time we got there in time to see the steps that precede the eggs dropping: creating a body pit and digging a hole for the eggs. Jen generously allowed us to take measurements of the carapace, and even to help relocate the eggs. She explained to us that this particular beach erodes significantly over the summer months, and that the eggs had a greater chance of survival if we transferred them to a spot that was less likely to be washed over by the tide.
To relocate the eggs, Kelly carefully cupped her hands under the turtle's rear and caught the eggs as they dropped from her cloaca. The eggs were gently carried to a better spot, where Lauren proceeded to dig a deep hole as the turtle would do. I then gently dropped the eggs two at a time into the hole. They were white, about the size of a pool ball, and slimy from the "cloacal jelly" coating them. There were 70 normal eggs, and about 20 deformed ones, which we learned is normal. After the eggs were dropped, Lauren filled the hole with sand, and the relocation was complete.
Until 2am, we continued to patrol the beach and participated eagerly in the measuring and relocation processes. Five turtles later, we wrapped up our shift and headed home. It was an exhilarating night and an extraordinary introduction to leatherback research.