Friday, 22 April 2015
*KNOCK KNOCK KNOCK* "Good morning!"
It's 5:45 a.m. and Matthew, our professor, is right on cue with our morning wake-up call. Today is our final day in Culebra, but that doesn't mean we get to skip morning hikes to the Resaca and Brava beaches. However, compared to our previous days on the island, today was going to be like no other.
I was so pumped for our hike to Brava – and that's saying something considering I've lived in the very flat terrains of South Florida my whole life, and have never gone hiking before this trip. But it was the anticipation that we had been fortunate enough to be visited by a nesting leatherback sea turtle the night before that motivated me to take this journey for the fourth time.
And when we got to our destination, resting within feet of the one we found yesterday, lay another leatherback nest! It was breathtaking to imagine a massive female leatherback using all her energy to emerge from the sea at night, leaving behind large crawls that closely resembled those a tractor's tires would make. Kelly, our other instructor on the trip, explained how after the mother has determined where she wishes to lay her eggs, she begins to dig a "body pit" with her flippers before she creates an egg chamber with her hind flippers. After laying around 100 eggs into the chamber, she covers her nest and camouflages a large portion of the area with the surrounding sand (which is flying everywhere). After she is satisfied with disguising her nest, the nesting leatherback will make her journey back to the sea, returning to the nesting beach in about 10 days to lay another nest.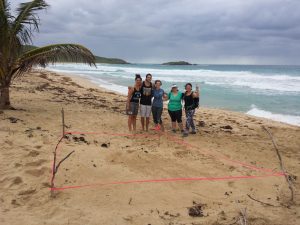 Unless you're actually present at the time the mother laid her eggs, pinpointing the location of the nest is mostly guess work, even for the most experienced sea turtle biologists. As a result we marked off a large square area with pink tape to let others who come visit the beach know that said nest is somewhere around here.
After making our way back up the mountain (successfully surviving our hikes!), the group hopped into the golf cart and headed back home for breakfast.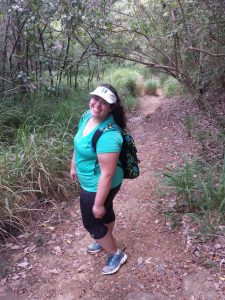 After breakfast, we paid Dr. Carlos Diez, a local sea turtle biologist that we've been working with on sea turtles studies for the Puerto Rico DENR, and his crew a goodbye visit at their house before gearing up in our swimwear and snorkel gear to make some friendly visits to some of the beaches he recommended during our stay on Culebra.
You basically pass the airport every time you need to go to town to grab food or the ferry. It's also part of the directions Abbie, a woman we met the day before who teaches at a school on the island for students who want to learn English, gave us to get to her school. You see, on Culebra most streets don't actually have names that people can use to give you directions around the island so your stuck with giving directions with landmarks. And the airport is an interesting one because it is strangely situated with a mountain at the end of its runway. Even if it was originally designed to be a military airport for the US Marine Corps about 60 years ago, this means that commercial operations to the Benjamin Rivera Noriega Airport are limited to propeller aircrafts of 10 seats or less.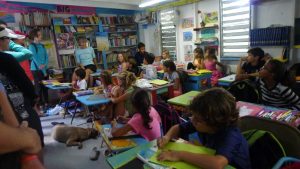 We loved Abbie so much that we asked our professors if we could take her up on her offer and visit her classroom the next morning before going to the beach. Magically finding our way to the school by looking for a "stone wall" on the right of the airport, one of Abbie's students showed us the way to her classroom. We were greeted by a couple dozen kids ranging between the ages of 5 to 17 in grades 1st-12th.
We introduced ourselves to the class and heard from the students about their own interests and answered any questions they had about ours. Spending time with the students was absolutely precious, and I'm so happy that they have a woman as amazing and inspiring as Abbie teaching them. If it wasn't for our plans that morning, I think our class would probably have stayed all day with Abbie and her students.
But, Tamarindo Beach was calling us. If we weren't satisfied with the amount of green sea turtles we had already worked with during our stay in Culebra, Tamarindo was sure to do the trick. This area is a huge foraging ground for green sea turtles, and never had I seen or swam with so many of them. Day made.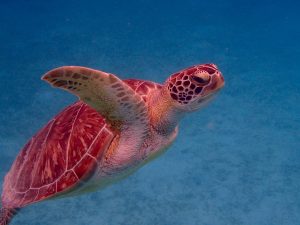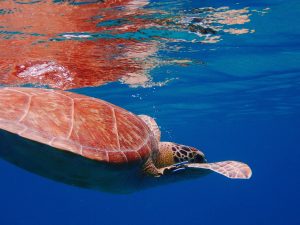 Following our little snorkeling adventure with our sea turtle buddies in Tamarindo, we braced the old dirt roads of Culebra as we made our way to Flamenco Beach. For those who might not know much about Playa Flamenco, this beach stretches for about a mile along the coast of Isla Culebra in a horseshoe-shaped bay. It is known for its soft white sand and shallow turquoise waters, and is considered one of the best beaches to visit in the entire Caribbean.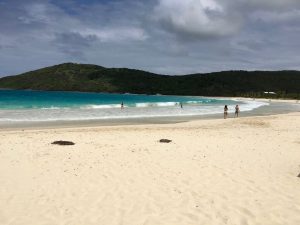 After retuning home from Flamenco and taking a short rest from our busy schedule, we went into town for dinner. But to our dismay, our favorite restaurant, Zaco's Tacos, was closed for the weekend! So we split up and dined at places like Mamacitas and the Dingy Dock before reconvening at a little sweet shop called Sweet & Naughty that our classmates Sammy and Suzie had stumbled upon earlier in the week. This cute candy store is the only one of its kind of the island and is owned by a couple that moved to Culebra a couple years ago from Montreal.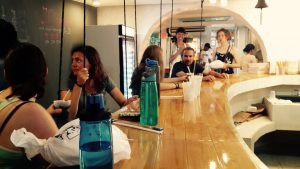 Here one can find lollipops, purchase candy in bulk, and swing by the doughnut bar while waiting for their fresh doughnuts including the store's specialties: monkey balls, sweet pearls, and SINnamon balls. You get all this, plus the company of the candy shop's pet dog during your visit.
When the time came, we headed back to our little house to clean it from top to bottom, packed up all our belongings, and made our way to our bed.
Tomorrow we will be up by 5 AM, going on our next leg of our journey to St. Croix to night patrol with Kelly and her team for nesting leatherback sea turtles on Sandy Point. I can't wait!