Our day began at dawn, as we quietly waited along the edge of the beach to see nesting turtles make their way back into the ocean.  As the sun slowly rose, we followed in their tread-like tracks behind them. As is the case with many phenomena on Ascension Island, it is hard to wrap your head around the fact that the behavior and density of species in this locale is extremely rare on a global scale. The fact that we could simply stroll up onto a beach at dawn and be guaranteed to see several turtles is simply something one can't take for granted. In the daylight, you could not help but notice the level of effort these couple hundred pound turtles had to exert to move across the beach.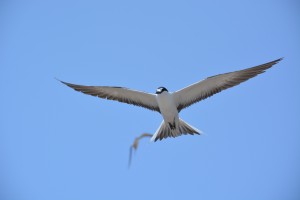 Our trip to Mars Bay was also filled with wildlife. A short hike brought us to a massive tern colony, with birds blanketing the sky as we passed by.  After the feral cats were eradicated in 2006, the birds returned from a small rocky offshore island to the mainland island and are increasing in number. As we continued, we can upon a picturesque rocky beach, with small pools full of fish and crabs among the rocks.  As we kept walking, we came upon a secluded pool of water containing three endemic species, meaning the two shrimp, and bubble-like green algae do not exist anywhere else. Juxtaposed to this abundance of diversity of life, there were dozens of flip-flops and hundreds of dried fish.  Even on a completely remote island in the middle of the Atlantic Ocean, it was striking to see the scale both human and biological forces at work.  It is hard to argue that even simple human actions do not impact our marine species.
At night, we split up and headed down to Pan Am Beach and Northeast Bay to observe nesting turtles. We hunched low on the sand to avoid disruption, keeping silent as we watched the female begin to throw back sand and dig a body pit with her powerful front flippers. She often took breaks from this exhausting first step; Ascension does not have seagrass in the environment, and nesting turtles fast for the entire nesting process. With no notable light pollution, the stars were a brilliant streak across the sky and an incredible sight. As the turtle began breathing heavily, we were able to watch it dig a pit and start laying eggs. We inserted a temperature recording device into the clutch, and collected data from the turtle. Most of us became covered in sand, as the turtle flung sand behind it to cover up its new clutch. Tonight's experience was absolutely amazing, and really shed light on the patience needed to do field work in research.