You can change friends, but you can't change neighbours.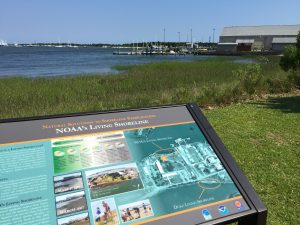 Since the Duke Marine Lab was established in the 1930s, the National Oceanic and Atmospheric Administration (NOAA) has been our friend and neighbour on Pivers Island. This Saturday, for the first time in 19 years, their Beaufort lab held an open house. The federal scientists communicated their research on important marine issues in the region to Carteret County residents and their families.
With "U.S. FEDERAL PROPERTY. NO TRESPASSING" signs erected all round the boundaries of the lab, I've never crossed over to NOAA side in my 6 months here at Duke's Marine Lab. But NOAA scientists have certainly hopped over to our side often, giving seminars and collaborating on research with our professors. So I took my chance this weekend to explore what their lab looked like, and find out what they were working on.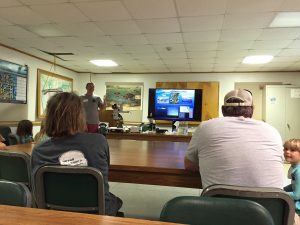 I joined a tour of their lab, a building I've run past countless times but it was only ever a black box of mystery to me. The first stop was a presentation on the lab studying harmful algal blooms in relation to ecological structure and impacts on human health – an issue clearly in the minds of local residents as evidenced by the countless questions they asked.
Next stop was undoubtedly my favourite: the NOAA dive locker. Wet suits and BCDs hung on the walls as Dr. Chris Taylor explained the underwater surveys and remote operated vehicles NOAA uses to monitor fish populations.

We moved on to an adjacent building not unlike one on our own campus, filled with massive salt-water tanks. Here, dozens of lionfish swim unhurriedly, subjects of research tackling the development sustainable aquaculture to supplement our desire for seafood.
Outside, the public took part in developing living shorelines themselves by helping to plant Spartina cordgrass and oyster reefs as protection against shore erosion, an environmentally friendly alternative to building bulkheads.
The NOAA Beaufort lab and its century-long history narrowly avoided closure in 2014 due to cuts in the presidential budget. Despite aging infrastructure, the lab still conducts important research and is as dedicated as ever to serving the local community. To have them as our neighbour is mutually beneficial indeed.