As of this moment, I have exactly 42 Twitter followers. I jumped on the Twitter train a little late, and I have found that more of my friends are on Instagram and Facebook versus the Twitter platform anyway. Compared to say, Kim Kardashian (39 million followers), or Anderson Cooper (6.89 million followers), or noted climate activist Al Gore (2.91 million followers), or even my little brother (229), my total seems pretty paltry. In an era obsessed with likes, favorites, shares, and retweets, someone may look at my small account and scoff, "What's the point?"
Sure, I may not have many followers, but there is a very important point to my Twitter account: my ability to add my voice to a cause.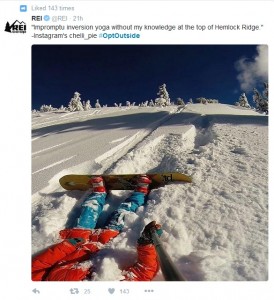 In previous posts, I have described the success of the #OptOutside hashtag initiated by REI, as well as the current #FindYourPark campaign from the National Park Service. I want now to convince those who may be hesitant to start and/or use Twitter to give it a go!
People have begun to use social media stats as indicators of general population attitudes as well as metrics of success. Politicians and other leaders pay attention to digital conversations, and advocates can use them as leverage in environmental discussions with policy leaders and other change-makers.
When I favorite or retweet "Scientists scale Alaskan cliffs to stop Gyrfalcons from losing more ground to #climatechange" from @AudubonSociety (the Twitter platform for the National Audubon Society), it's true that only 42 of my followers will see it from me, but I am supporting Audubon and their message. I may not have any favorites on my retweet, but with  my addition they have over 55. Additionally, when I tag a photo with #FindYourPark or #OptOutside, I am lending my voice to calls for greater appreciation of the outdoors.
A single tweet, just like a single vote, a single letter to a member of congress, or a single town hall appearance, may not seem like much, but it all adds up. Thousands or even millions of tweets can spark a national conversation. Let's capitalize on the potential for environmental advocacy everywhere!