I'm a graduate student. We do serious, important things,  like statistics assignments, Masters Project presentations, and GIS labs. It's sometimes easy to forget how carefree we once were only a few short years ago. With the help of a two year old, I was able to go back in time during two hours at the Museum of Life and Science, learning and experiencing all the facility had to offer with new eyes. Located in Durham, the Museum of Life and Science offers a barnyard with a close up view of farm animals, a butterfly sanctuary, a small train ride, a dinosaur trail, wetlands, enclosures with live lemurs, red wolves, black bears, and an entire area devoted to explorations of mist, air, and water. My fiance, his sister, and I were giving Maddie, my niece-to-be, a tour on a lazy Sunday afternoon.
First stop: the barn animals. I grew up in a community where cows and – funnily enough – alpaca were quite common. To me, donkeys, rabbits, and steer are no longer exciting. But to a two year old? Every snort and whinny was cause for widening eyes and squealing in delight, and I was caught up in her enthusiasm.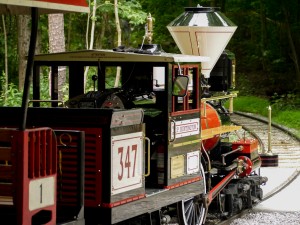 Though the farm animals were fun, the butterfly sanctuary appealed to my naturalist spirit and love of all flying creatures. The room itself was heated and full of tropical plants from floor to ceiling. Flowers bloomed over our heads, and tropical birds even chirped from the tree branches or shuffled beneath the shrubs and grasses at our feet. Here I wanted her to see everything I could see, and  we ooh-ed and ahh-ed at the bright colors and shapes of the many species of winged critters that inhabit the sanctuary.  Though Maddie  loved the butterflies, she showed me something I would never have noticed on my own: fish. While my eyes were raised to the indoor canopy, hers – understandably – were also taking in the floor. The path wound around to a small pond, where large white and orange koi swam in slow circles. While she liked the butterflies, she loved the fish, so much so that it was difficult to pull her away from them.
Up next was a train ride, followed by a walk around the dinosaur trail. Huge sculptures of long-necked dinosaurs and T-rex species were nestled among trees and smaller dinosaur varieties, giving one the sense of being towered over and towering, all in the same walk. The figures were colorful and some could even be climbed upon – a must for any toddler.
Following the museum's network of trails, we left the dinosaur path and headed to the natural wetlands and on to the animal enclosures. Operating as a small zoo, the museum offers visitors close-up views of some of North Carolina's resident species, such as the black bear and the red wolf, and some foreign (lemur) visitors as well. Hoisting Maddie up, we pointed and pointed until she finally saw the hulking black bear at the back of the cage or the lemurs resting in a tree. With a gasp she covered her mouth with both hands, giggling and babbling in a language unique to herself.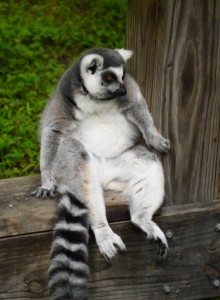 Though she liked the farm animals, the butterflies, the dinosaurs, and the animals, nothing compared to the delight she found in the water exploration section of the museum. Enclosed in a circle, dozens of sprayers were shooting a fine layer of mist, saturating the air and obscuring the small hills and valleys that had been constructed in between the sprayers and covered with fake turf. Though Maddie was hesitant at first, after a few cautionary swipes with her arm she determined the mist was safe, and off she went running back and forth and back and forth along the rolling mounds. She laughed as she came closer and then scurried away again, and we couldn't help laughing too. On a normal day, mist may be an irritant, something that makes driving difficult or hair frizzy. That afternoon, however, mist was a source of endless fun for Maddie, just because she could run through it. Now on an early morning when steam is rising from the blacktop or a small pond near my apartment, I think of it as she did.
At the end of two hours, her two year old toddler legs were tired, and we carried Maddie back to the car. The Museum of Life and Science was full of things to see, learn, and do, and at the end of our visit I felt a little lighter following an afternoon of adult responsibilities replaced with the simple fun of a kid. At times we all need to take a step back from our adult responsibilities and remember how life looked when we were kids.