I couldn't believe it, I just could.not.believe.it. It was before 7 a.m. on a Sunday morning, the sky was still dark, and my alarm was practically buzzing itself off my bed. Who the heck had set my alarm for 6:45 a.m. on a weekend?
Oh right, that would be me.
After taking a few seconds to rub the sleep out of my eyes, I remembered I had set my alarm because that morning I would be embarking on my first ever bird count with the NicNats. A bird count is just what it sounds like – a group of people, in our case, undergrad, grad, and PhD students, set out in a particular area and write down all the birds they see. Throwing off my covers, I jumped out of bed and into jeans and a T-shirt in preparation for a trek through Duke Wetland Center's S.W.A.M.P.
No, it's not an actual swamp. I would be walking down a well manicured path frequented mostly by joggers and dog-walkers, but the S.W.A.M.P., which stands for Stream and Wetland Assessment Management Park, is a restored section of Sandy Creek and an amazing place to see wildlife. Ask any of my new Nicholas School friends and they will tell you that I am an avid bird enthusiast, and the prospect of seeing new life-birds that morning (birds I would be seeing for the first time) was enough to get me up and out the door.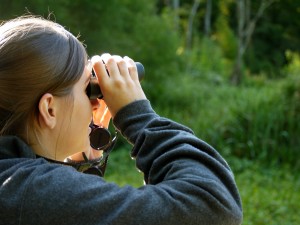 We met Scott, the leader of our bird count, at 8 a.m. There were probably ten of us total, which I thought was rather impressive for an early Sunday morning. Who says the American youth of today are lazy? I have to say though, as we started on our walk into the S.W.A.M.P., what was the most impressive was Scott. Birds were calling to each other fast and furious as we walked through the woods, singing so high up in the tree canopy that we had no chance of seeing them even with our binoculars. Still, he would pause, listen, and then start calling out species names: Brown-headed Nuthatch, Carolina Wren, Red-Bellied Woodpecker. I have been birding for a little under a year now, and there's no way I could pick out even the common species. Color me impressed.
Regardless of my listening abilities, birds were visible all over the place, and we had no problem quickly increasing our count. I love looking for birds because it's almost like a competition: who's the first to spot a species? How many have I seen? How many can I add to my life-list? Being outside suddenly had an added direction, a purpose. Plus, the birds are just beautiful.
We saw more Red-bellied Woodpeckers (which actually have red heads, not red bellies. Go figure.), Eastern Bluebirds, Red-tailed and Red-shouldered Hawks intent on chasing each other, Brown Thrashers, Northern Mockingbirds, an American Goldfinch, and so many more. All told, in our two hours walking around the wetlands and the woods we saw or heard a total of 27 species – almost spot on what had been seen the year before. I was particularly pleased with my own list. The Red-shouldered Hawk I had only ever seen in captivity, which made my first wild sighting a life bird, number 112 this year!
Birding and the bird count were definitely good reasons to get up before 7 a.m. on a weekend. But what I love is that it woke me up (yes, pun intended) to a whole slew of other reasons to set my alarm. It was an absolutely beautiful morning, and in between bouts of looking for birds we closed our eyes and put our faces to the sun. New birding friends and I had time to chit chat about things other than the amount of homework piling up back at our apartments, and I met undergrads and PhD students in other programs. Not bad, not bad at all. I'm going to keep an eye out for NicNats birding trips in the future. Even though I ended up enjoying my early morning, here's hoping that at least some of the trips will allow me to sleep in!
For further information on the NicNats, see the link below:
http://www.nicholas.duke.edu/people/students/professional-and-social-organizations/nicnats