I have recently switched to a position at the Choctawhatchee Basin Alliance, moving from an office on the beach of a barrier island to a building within the forest. Right away, I noticed a network of trails weaving in and out of the woods and around the various buildings in the complex where I work. On one fair-weather lunch break, I decided to spend an hour exploring them.
Trails are good. They provide economic benefits by improving property values, while creating exercise space for employees to improve their health. Though walking for an hour only burned about 165 calories, that was still 165 more calories than I would have burned sitting at my desk! Additionally, time spent outside reduces stress, improves short term memory and reduces inflammation. To me, the biggest benefits of walking outside – especially in the middle of the work day – are improved concentration and a reduction of mental fatigue.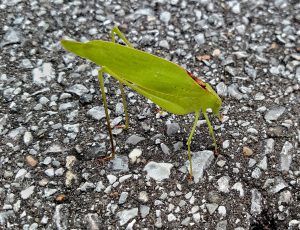 So out I walked, taking only my cell phone in case I somehow got myself lost. The paved path began as a nature trail, wooden posts with numbers identifying various plants and habitats. The trail curved past wetland and pond areas, around a library and the edge of a sports complex, then headed back into the woods before I finally ended up at a playground. It was certainly a suburban walk, but I stopped to admire the wildflowers, the cypress trees growing in knee-deep water, the bright green anoles rushing across my path. I kept a bird list and at the end had recorded 45 birds of 18 different species – not bad at all! After an hour of birding, sunshine and light exercise, I felt ready to return to my computer.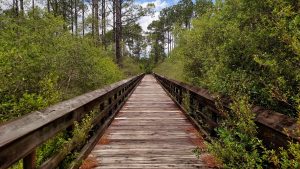 It can be complicated and expensive to install trails; one company, TrailScape, Inc, estimates $8,000-$35,000 per mile depending on the desired steepness, the number of turns, etc. In some urban environments, trail building is obviously not in the cards. However, when possible companies and organizations should invest in a trail network for their employees or support green space within walking distance of their offices. I can tell you from experience that nearby trail opportunities make me a happier and healthier staff member!