I have been in Duke Gardens many times, both for fun and for my internship. However, last weekend I visited at sunset and saw the Gardens in a whole new light – literally.
The light before sunset is beautiful to experience and for photography. It slants at beautiful angles, causes dappled patterns on the ground, and doesn't cast a harsh glare on flowers or plants. However, once the sun descends, landscapes become dark rather quickly, and taking quality photos has always been more difficult for me.
The Gardens are open until dusk, and as I was visiting anyway I thought I might as well take photos. I remembered a "Composition and Light" class where the instructor suggested trying to take pictures in low light with the flash on. Why not go for it? Walking up to a red flower next to the lily pond, I tried my best to focus, then snapped away.
I was absolutely thrilled with the results! The flash illuminated the flower, but left the background completely black. Contrast with the dark background really made the blossom colors pop, while outlining tiny details on the petals themselves I hadn't even noticed. My friend showed me another flower that looked amazing lit up, and I moved from blossom to blossom ecstatic over my newly-discovered technique.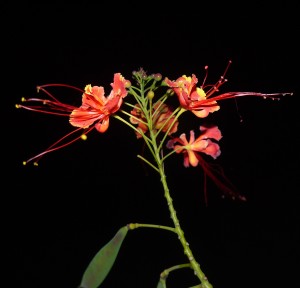 In fact, I loved it so much I went back the next night! I would definitely recommend other photographers give it a try. Remember however, that most places close at dark, and to always be safe!