I felt a little silly as I searched my closet for gloves and a winter hat. Sure, it was December, but I lived in Florida. Only the weekend before I had been sweating in temperatures that had reached nearly 80 degrees, and now I was layering long underwear, sweatshirts and jackets. The sun may have been shining, but my car thermometer read 37 degrees. No matter. It was time to build an oyster reef!
I have been working as the Communications Coordinator at the Choctawhatchee Basin Alliance for over 6 months, and I've visited our reef sites in Northwest Florida's Choctawhatchee Bay many times. Oysters can filter up to 50 gallons of water per day and are a critical component of maintaining water quality in our brackish ecosystems. Additionally, the reefs reduce wave energy and protect the shoreline from erosion, becoming a mainstay of CBA's living shoreline initiatives.
Because of my job responsibilities, I had photographed our reef building activities, but had never actually participated. To be honest, it was an activity I treated with a certain amount of trepidation. Bags filled with oyster shell are heavy, and I always worried that I would fall behind at reef building events, slowing the team down with sore muscles and inexperience.
But the process also looked fun, and staff and volunteers raved about the experience. So on this December morning, I signed up to attend a bagging event. For two hours, I would join my colleagues as we shoveled waiting oyster shells into plastic forms, which would then pour into the bags themselves.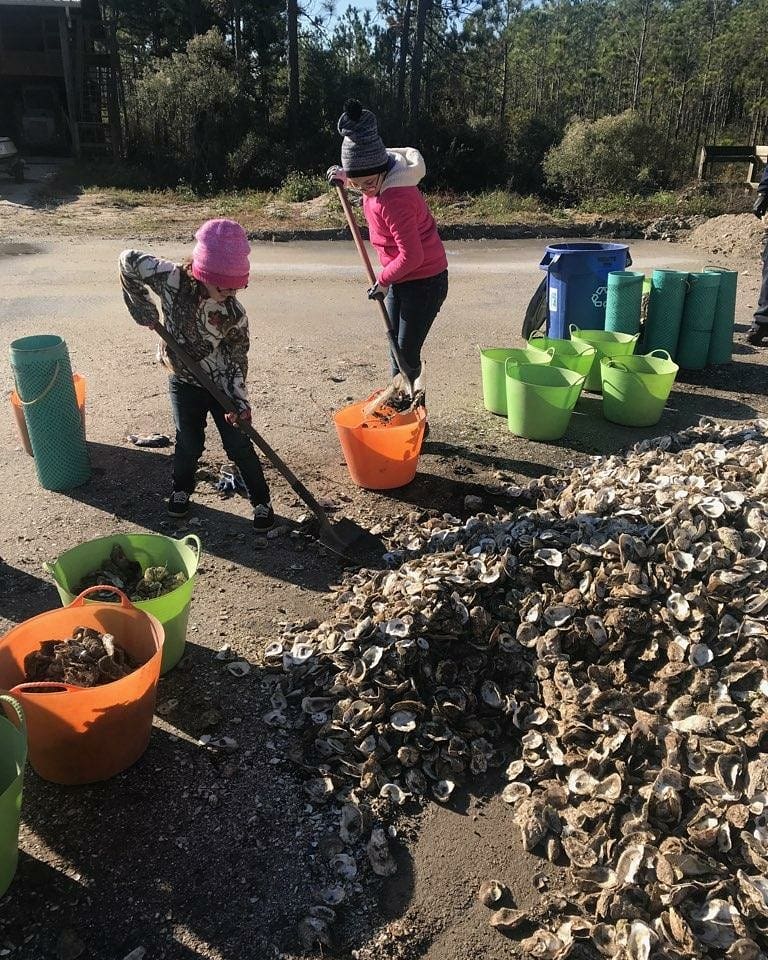 The oyster shells came from local restaurants, saved from the landfill and turned into reef. Because much of the Choctawhatchee Bay's shell had been mined out in the 20th century, these shells would replace what was lost and provide hard substrate for juvenile oysters – known as spat – to attach.
The team had already begun by the time I pulled up to the oyster shell pile. My boss Alison and her daughter Katie were there, as were two of our part-time ecology technicians Jamie and LaTrell, our restoration coordinator Rachel, and three volunteers, two of which were kids. Make no mistake, those kids knew their stuff and busily cut bags or readied shell for pouring.
To create shell bags as efficiently as possible, an assembly-line structure quickly formed. In my group, Alison shoveled shell into a waiting bucket, I attached a bag to the long, vertical, plastic form that acted as a shell funnel, while Katie dumped the shell into the form and eventually tied the bag shut. Physically, my work was probably the least taxing, but I still felt the pull of my arm and shoulder muscles as the two hours flew by.
I can't believe I had waited so long to bag shell. I loved it! As we worked, we all chatted about the weather, our families, our week, the news, anything we could think of as we steadily made progress. I enjoyed the exercise. The morning – though chilly – was absolutely glorious, the arching blue sky only broken by a smattering of wispy clouds. A few days later, the shell bags we stacked into a tall pile would be part of a new reef in nearby Alaqua Bayou. After so many years of studying and writing about restoration, I had actually contributed to a project with my own two hands.
Bagging is only one part of the reef-building process, and I look forward to the next step: wading into the bay itself to carefully place the bags along the pre-selected reef lines. Sign me up!