I have fallen in love again. Not with a smile, a handshake, or even a person, but a stretch of mountains, layered in greens and blues as far as the eye can see. Finally, after almost nine months of living in North Carolina, I have visited the great mountains along the Blue Ridge Parkway in the western part of the state, and those vistas have lived up to their impressive reputation.
Visiting the Blue Ridge Parkway as part of a work trip, I pulled into the parking lot of Waterrock Knob, mile-point 451.2. A small visitor's center and a set of restrooms bordered the parking lot, but I couldn't take my eyes off the view. I have seen mountains before, in Maine, Colorado, California, New Hampshire, Europe, but there was something about this landscape that called to me. Maybe it was the slow gradation of blue to blue to blue until the peaks gently faded into the horizon, maybe it was the seemingly absent human habitation, maybe it was the plethora of bird sounds; whatever it was, I loved Waterrock Knob and the surrounding scenery the moment I stepped out of my car.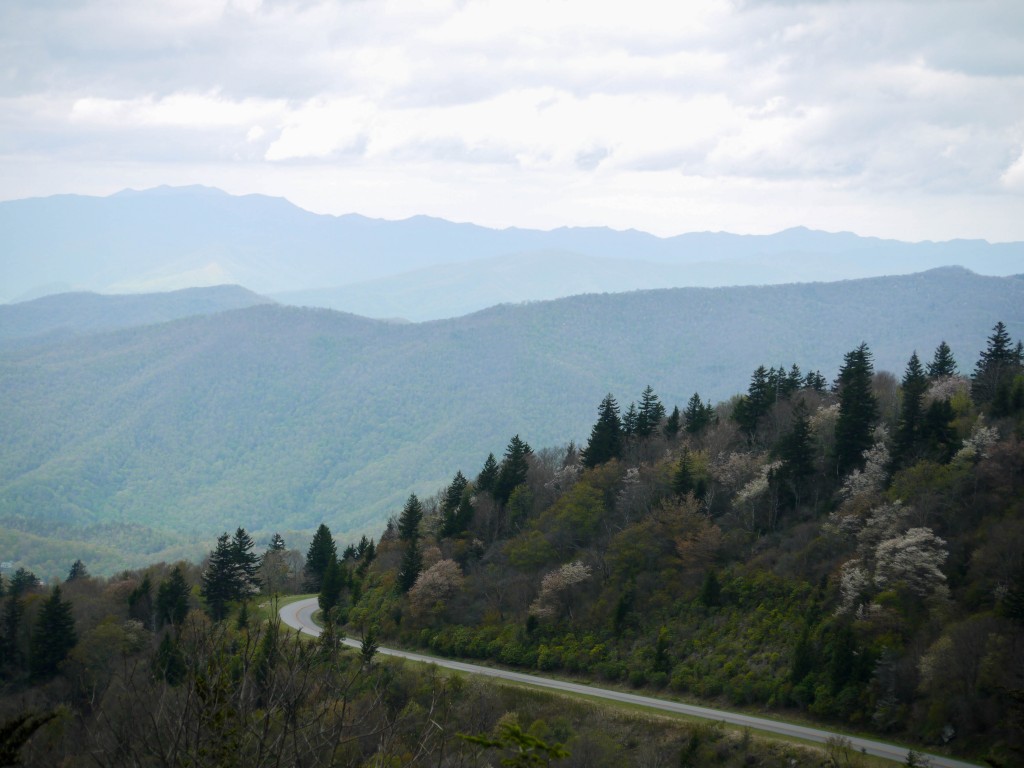 I wanted to see more. After changing into warmer clothes to combat the stiff breeze, I found the trail to the very top of Waterrock Knob. It was only a mile or so, but the path curved steeply in places and I picked my way along slowly. The wind was really blowing now, and I felt a droplet hit my face and hair. The trail was rocky, and passed dense thickets of trees, then a tiny meadow, then more trees growing shorter as I wound my way up. Dark-eyed Juncos danced on the path ahead of me, and one lone hawk slid away before I could identify it. As I neared the top, my peripheral vision caught sight of a flash of yellow. I knew from my North Carolina Birding Trail guide that the knob was a warbler trap in the spring, and I crossed my fingers the mystery would return. Unscrewing my lens-cap, I slowly turned the corner where I had seen the small blob of yellow disappear. After searching for a moment among the waving stems of grass, I saw it again, this time also noticing a signature black throat: I had found my first Black-throated Green Warbler of the season.
After I was able to take a few photographs the bird disappeared into the brush, leaving me to wonder why someone had named it "green" when it was so clearly "yellow." No matter, I was nearly at the top which meant an even higher view of all that surrounded me. Far below I saw a town, its cleared meadows a lighter green against the dense forest backdrop. A couple from Israel shared the ascent with me, and we exchanged oohs and aahs and took pictures for each other. I could have stayed up there forever, but darker clouds and the damp air threatened rain, and I wasn't about to ruin my camera. Reluctantly I headed down, stopping every so often to stare far below me.
I'm lucky that my internship will require me to visit the mountains a few more times this summer. Someday, if I can, I'd like to travel the entire length of the Blue Ridge Parkway. I want to stop at as many overlooks as possible, and take in the views that have so affected me at Waterrock Knob!