With an ominous twitch of its maraca-tipped tail, the rattlesnake reluctantly slithered its way off the dusty track. Without much protest the deadly serpent disappeared  into the darkness letting us return to the real problem: the fact that we had found ourselves rather lost well after dark in the Sonoran desert.  I stopped to think back on how we had gotten here and smiled. Our Community Based Marine Conservation course had gotten off to something of a rocky start but at that moment it truly felt the adventure was underfoot and I felt oddly grateful to be lost in the Mexican desert.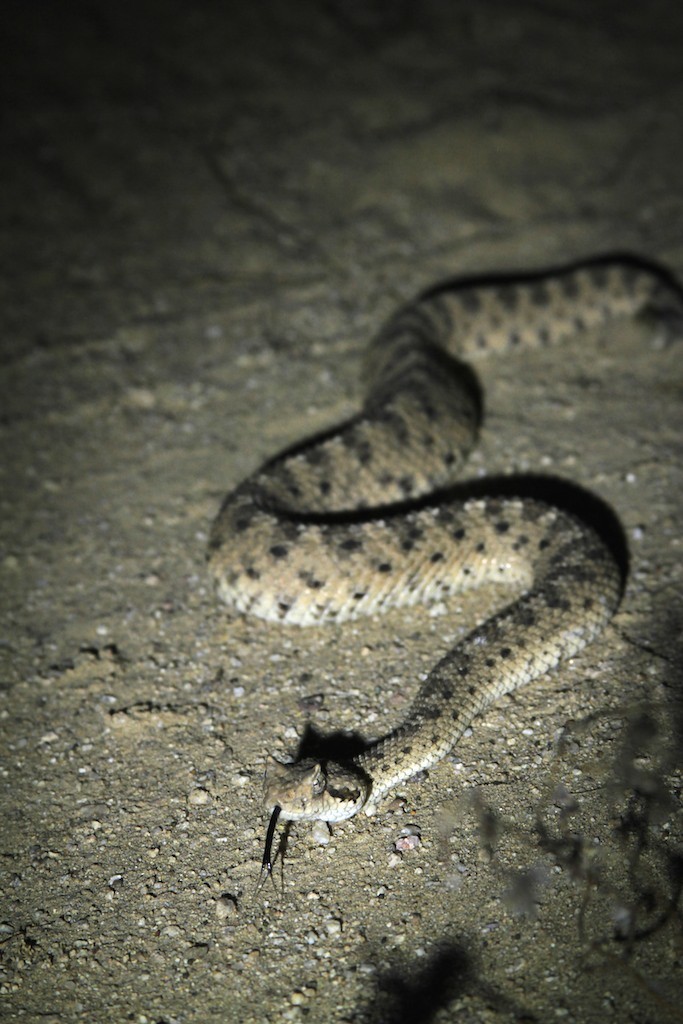 With only 3 out of the 12 of us making it to Mexico as planned, we were hoping we had gotten any bad luck out of the way early on. Some sort of crew related delay kept our professor Xavier Basurto and the remainder of our class stuck in Charlotte airport and forced an unplanned night in Phoenix. The three of us that had made it, however made lemonade of these proverbial lemons (more accurately, margaritas) and enjoyed a sunset over the gulf of California. Once they arrived however things got cracking quickly.
The plan was to head 2.5 hrs north to the small fishing village of Puerto Libertad and meet with fishing cooperatives there to discuss the ways in which the local community was managing their marine resources.  Packed like sardines into our rented van with not a seat to spare, we shot off across the desert at full tilt. Leading the charge in a dusty pick up bouncing cheerily between pot holes were Francisco (aka "Paco") and Alberto of the local NGO CoBi (a contraction of Community and Biodiversity) that Xavier cofounded in 1999.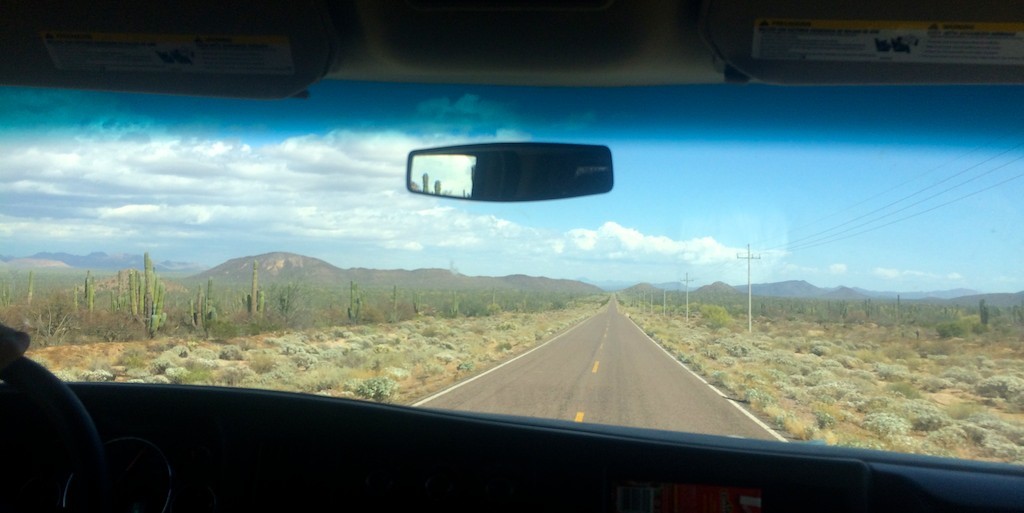 As we struck out from the heavily human altered habitat, the mosaic of fallow fields interspersed with lush citrus and almond groves gave way to an outlandish realm of thorns and spines. "Forests" of towering Saguaros and Cardónes, mighty cacti crowned in flowers like conquering heroes sprang from the hard dry earth. Spindly ocotillos reached graspingly towards the sky holding aloft their red flowers for passing humming birds. Stout elephant trees with twisted trunks dotted the landscape. Far from the barren wasteland I had imagined, the desert teamed with life. Birds flitted between the shrubs, chipmunk raced across the road, and red tailed hawks twirled with turkey vultures overhead.  As we sped by a startled bobcat dashed across a dry river bed and I realized I had very much underestimated the place.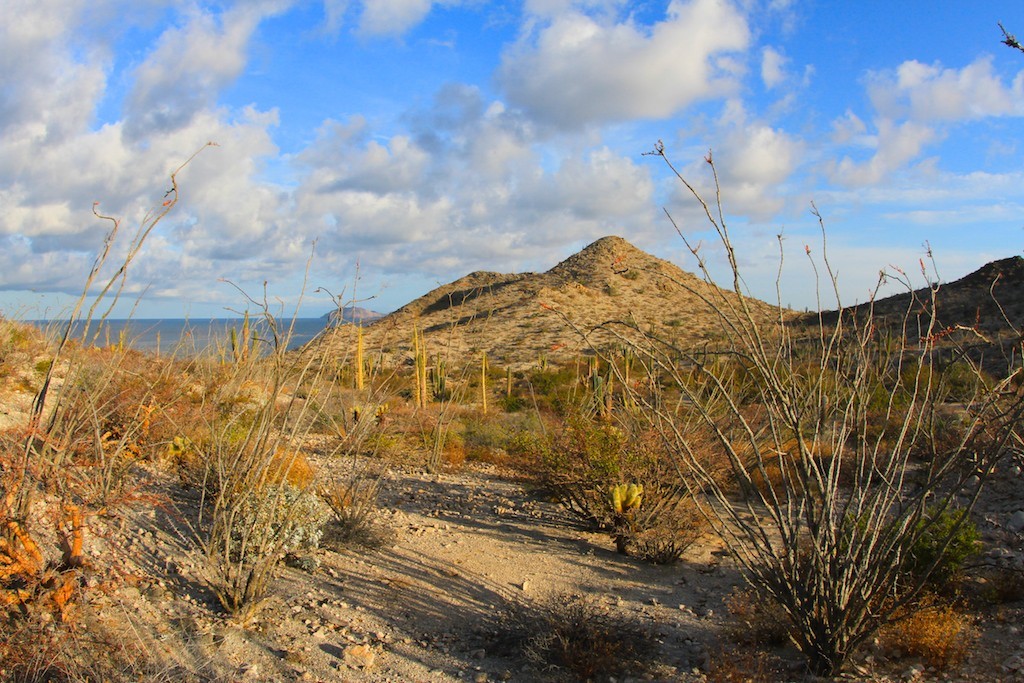 After a few stops to chat with policemen at the roadblocks meant to catch revelers who might be driving intoxicated during Semana Diabla (the "devil week" of partying following Holy week), we arrived at the small coastal town of Puerto Libertad. There we were greeted by a cheerful band of Mexican fisherman awaiting us under a seaside palapa (the open-air, thatched roof structures typical of the coast here). These colorful characters  gathered from equally colorfully named fishing cooperatives including Gabriel Lopez of "the Mojarras of the Reef",  José Antonio Gomez of "The Octopi of Don Camarino", and Raimundo of "The Underdogs of Liberty." Gabriel and his wife offered us delicious fresh clams with lime and hot sauce as we waited for more to gather. Slowly more and more filed in as we made introductions until a quorum was reached and time came to commence our meeting in earnest.
The fishermen explained in answer to our string of questions, some translated by Xavier and others ventured in wavering Spanish, the projects that they were undertaking in partnership with CoBi to manage their fisheries. The first project they explained was simply attempting to get licenses to commercially harvest for export the three delicious species of clams we had sampled that they already removed for household consumption. They explained how they had already begun a monitoring effort both in terms of measuring those they captured to examine age distributions and research diving in order to make population assessments. Beyond advising these efforts, CoBi functions as the intermediate passing this information on to the government and helping the fishers with the paperwork and procedures for formally organizing to acquire separate fishing permits necessary to harvest and cell red, white, and chocolate clams.
The other project they explained was a marine protected area they established in order to protect a portion of the fishery. They discussed the importance of such areas for producing more offspring that would spill over into the nearby fishing grounds. Amazingly to establish such an area they managed to come to unanimous agreement in the community though after considerable debate and several attempts. Eventually it was recognized not only as a valuable step towards protecting their resource base but also as a bargaining point for improving their chances of receiving fishing permits from the government.
These sorts of community based environmental management efforts represent a vital means of arriving at responsible management of natural resources. The well-intentioned efforts of the government to control fishing in the area often backfire by handing out permits to fish buyers who then employ an unregulated fleet of "free fishers" to enter a free for all on the ocean. With enforcement fixated on the most lucrative fisheries like shrimp trawling, there remains essentially zero risk of consequence for rule breakers. Like some 75-85% of marine fisheries globally, many of those in the Gulf of California are either exploited at capacity, overexploited or have outright collapsed. Top-down efforts to control the resources imposed by ill-informed government officials do not appear to be succeeding but when cooperatives form that can work locally and enforce their rules by social pressure within a community, hope of responsible management emerges. This is what we had come to study in the class.
After patiently answering our many questions, the fisherman took the biometric measurements and samples of the clams they had gathered for monitoring and prepared a veritable feast of fresh clams for us. In honesty I had never appreciated fresh shellfish. The idea of eating nearly living, gelatinous goop that sustained itself by straining sea water had never much appealed to me. These clams, however, were quite something and I was singing a different tune after devouring as many of them as I could get my hands on.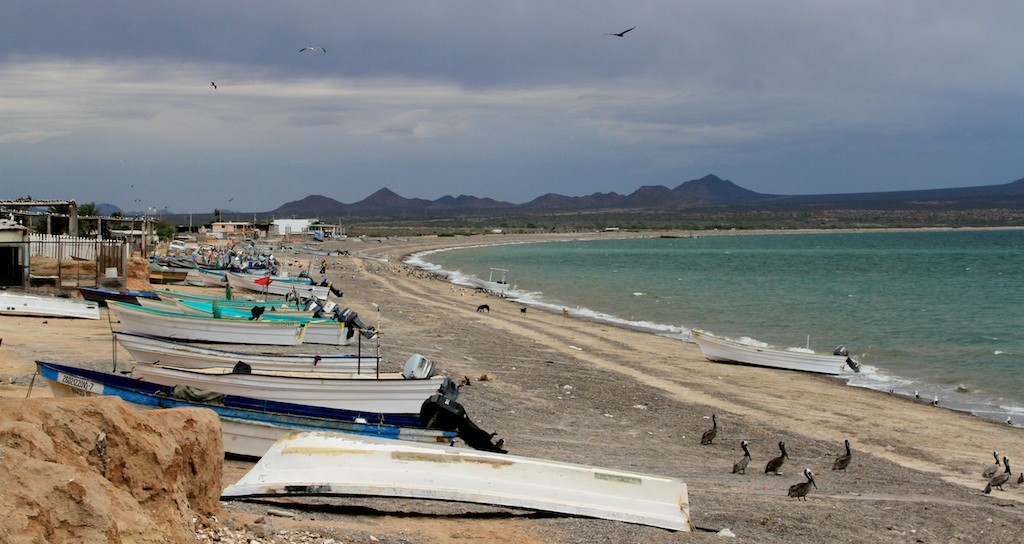 With a brief break to digest and explore the town, we returned later in the evening to hear from the fishing cooperative committee. Here we sat in a large circle within the cleared space of a local bar to chat with a mixture of fishing cooperative members and fish buyers. We began to delve into some of the complexities of community organizing, decision making, and the various roles of the fish buyers, the fishers, and the government. Suddenly, a stream of white uniformed men and women began streaming in to the building and our hosts began quickly rearranging chairs into an even larger circle. Xavier explained to us that the local candidate for state congress had arrived and decided our fisheries meeting was the ideal campaign stop. Sure enough a proud looking gentlemen in a large straw hat strode in. One could only assume this stately figure was the Rodrigo Acuña emblazoned on the shirts of his entourage. A private photographer circled like a hungry shark occasionally blasting a bright flash into the dimly lit room. Where we had recently been driving the show with our questions it became clear this was time to sit back and enjoy the spectacle as the posturing and speechifying of local politics unfolded before us.  We were clearly regarded as guests of great honor which we could only hope would translate to our fishing friends taking on greater importance in the eyes of Señor Acuña should he win power in the upcoming election. Some hour and a half later, the meeting dissolved into melee of  handshaking and personal thanks between students, fishermen, the politician and his party. With a few more key photo ops he quickly departed in the brightly labelled Acuña off-road vehicle, an ostentatious pickup truck that looked as though a Mazda miata might comfortably fit beneath it.
The unexpected arrival of the candidate put us well behind schedule and it was time to retire to our campsite outside of town. What we had not quite bargained for, however, was just how difficult it might be to find this campsite. Clearly since the last time Xavier had been here a good many more people had come to drive donuts in the desert and trundle trucks through the shrubbery leaving a complex looping network of track were there ought to have just been one road. One wrong turn led to another and we soon realized we were a bit lost in the desert and at some risk of getting stuck in the soft sandy soil. The van shrieked in protest as ocotillos reached out and scratched its sides as we wended our way down the tracks. After a while we determined it best to backtrack almost to the road and start again, this time checking each fork more carefully with a flashlight. As we made our way back we spotted a sinuous shape in the road which on closer inspection revealed itself to be the rather cross rattlesnake with which I began this story. With this discovery our wandering felt vindicated as we never would have found it without a "wrong turn" or two. After snapping some pictures and ushering it off the road we made our way back to the fork in the main road at which we had first gone wrong.
The snake turned out to be a good omen after all as shortly after it's appearance we were back on track. It was a straight shot to our beautiful campsite beside the ocean. Laying in my tent listening to the ocean lapping the shore I reflected on the friendly fisherman and their stories, the politician and his speeches, the snake, the bobcat, the clams. Quite a lot for one day. Hard to imagine what might be in store for the next 16. One thing was certain, this was an adventure I was delighted to be on.