"There is no way Hawai'i can live up to my expectations," I told myself repeatedly as this class trip approached. Never have I been more wrong in my life.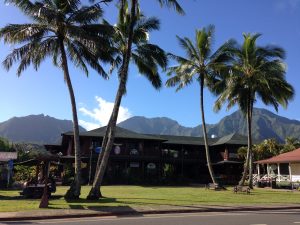 With soft air that smells like flowers, brilliant sunshine, average temperatures of 80 degrees and majestic mountains blanketed in lush greenery, it is no mystery why Hawai'i – and Kaua'i in particular – is one of the most popular vacation spots in the world. Yet tourism itself may be hurting the very environment that makes Hawai'i so attractive. On Monday, we journeyed to the Hanalei Watershed Hui, a non-profit organization, to learn more.
The iconic feature of Hanalei is a crescent moon bay great for surfing. The bay is fed by a 33.1 acre watershed. This watershed includes the Hanalei River, which President Clinton designated as an American Heritage River in 1998. The Hanalei Watershed Hui was founded to implement the heritage program and to protect the watershed.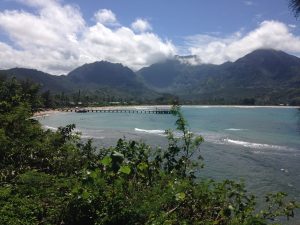 Protecting the watershed means local farmers prosper, local wildlife and local habitat thrives, and the local tourism industry – dependent on snorkeling, surfing, and sailing – booms. But a lawyer for the Hui warned us that every place has a capacity for tourism – exceeding it could be disastrous for locals and tourists alike.
Hawai'i already receives more than 20,000 visitors a day. The population of Hanalei is about 1,500 people. If even 10% of those visitors come to Hanalei, the number of people will more than double.
Yet there is poor public transport to Hanalei, leaving most people with two options for the nearly hour long journey from the airport: rent a car or take a cab. And once tourists get to Hanalei, where do they stay? Places are limited, and hotels are as rare as a snowy day here.
Mainland developers have been itching to put in a row of resort homes on one of the most beautiful ridges of the bay; the Hui is entrenched in a battle against them. Aside from the ecological destruction, such development will be an eyesore on the pristine view that so many people come to see. More importantly, it encroaches on the native traditions of the place, for ceremonies that have long been held on the end of the pier honoring nature will have less nature to honor.
Developers argue that tourism sustains the people of Hanalei; the locals counter that tourism is displacing them from their own homes. Hanalei is too expensive for most locals to live anymore and every development decision seems to be based around what's best for visitors and not what's best for those that live there.
Sustainable tourism is possible, but how it might be achieved in Hanalei is yet to be determined.