Limahuli National Botanical Gardens is a 1,000 acre preserve set in place to maintain the purity of the Limahuli stream and to protect endemic endangered species. According to the Limahuli website, "Preserves can be many things and serve a variety of purposes. Perhaps the most apt description in NTBG's case is to view a preserve as a refuge for nature. This means first creating a safe haven for endemic species threatened by invasive plants and animals, and sometimes from real estate development. The next step is the active intervention by NTBG staff to improve the habitats by restoring the ecologies that sustain and preserve native plant communities." We witnessed this philosophy first hand.
Our class had the opportunity to hike to an elevation of about 2,000 ft to assist with restoration efforts in the Ka'upulehu Preserve. This fenced 6 acre area is protected from ungulates and is home to many endanger plants.
We carried two trees, a rare hibiscus and about 20 native grasses to a densely-forested location. There we cleared invasive species and dug holes for our natives.

I had the honor of transporting the hibiscus, of which there are less than 50 in the wild, to its new home. Planting this beautiful flower was an experience I will never forget.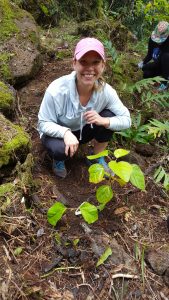 During our hike back to the base of the preserve, we stopped for lunch and a swim at the Limahuli stream. The clear water and untouched landscape was a testament to the impact that humans have on the environment (this stream is nearly unspoiled and has little human interaction, which was made evident by the condition of the water and land).