The day to head to Midway has finally arrived, but first a stop to the NOAA Protected Resources Office before our private plane awaits.
Today is the day. No, not Obama's first day at his new job. But the day we finally get to Midway Island. Andy and Dave (the professors) have built it up so much I hope it meets our expectations. This morning we went back to the NOAA Pacific Islands Regional Office to meet with Lisa VanAtta and David Schofield from the Protected Resources Division. They talked to us about management of protected species (think sea turtles, whales, dolphins, monk seals) in Hawaii and human interactions.
Lisa spoke with us about the many different types of interactions humans have with marine mammals. She talked about entanglement of Humpback whales in fishing gear and boat strikes, tourist interactions with dolphins, and monk seals in highly populated areas. There have been increasing reports of both entanglement and boat strikes with humpback whales but currently it is not known if these problems are truly increasing or if only the reporting is increasing due to awareness campaigns. Did you know in Hawaii the majority of boats that hit humpback whales are whale watching boats?
Dave Schofield gave us more information about human interactions and marine mammals because he runs theMarine Mammal Response Network. This includes investigating vessel collisions and strandings, helping to disentangle species from fishing gear, and dealing with oil spills. He spoke of his experiences and some of the unique encounters he has had in Hawaii. The funniest story involved responding to one specific monk seal that liked to jump on people's kayaks, surfboards and even climbed into a tent of people sleeping on the beach! Even William Shatner on a recent visit to Hawaii had an up close and personal encounter (start at 4 minutes 30 seconds into the video). While some of these encounters seem harmless, the endangered status of the monk seal and its protection under the Marine Mammal Protection Act means that great lengths are taken to ensure that these animals do not interact with humans. Our morning meeting nicely complemented the meeting we had with the NOAA scientists in the Monk Seal Program yesterday.
Soon after our early morning meeting, we grabbed our luggage and headed off to the charter airline section of the Honolulu Airport while we waited in a very posh and fancy lounge, in our dirty and disheveled clothes, to go on our charter plane.Check out Mike as he describes our trip to Midway by using the big globe in the lounge.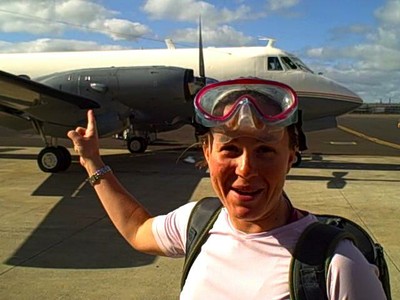 The plane, a small G1 was awesome!
Sitting up in the cockpit in the jumpseat for take off was exhilarating.  Captain Tom and Captain Larry answered all my questions as I sat in the jump seat, put on my head set and chatted away as we waited in line for take off.  There was no stewardess on the plane but there were subway sandwiches and a few cabinets full of Hawaiian juices and sodas for our five hour flight to Midway. There was a low layer of clouds and some haze for most of the trip, obscuring much of our anticipated view of the Hawaiian Islands Chain. We did get to see a little bit of French Frigate Shoals and Maro Reef. About 25 minutes before we landed, Captain Tom announced it would be a bumpy landing (check out the video). But we made it safe and sound, welcomed by the sight of nesting albatross and the song of petrels. I can't wait until tomorrow when we can see by daylight all the beauty, excitement and adventure that Midway holds.