We Hike to Kae'na Point to See Albatross and Monk Seals
It was dark at 6:30 when we stumbled into the big white van and drove to Coffee Talk for our morning java.  Sipping our coffee, we drove across Oahu and up to the North Shore, famous for its big surf.  Our trip ended at Ka'ena Point, at the far northwestern tip of the island.  We met our friends Lindsay Young, David Hyrenbach and Tracy Wurth in the parking lot.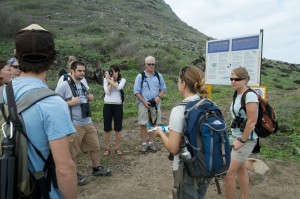 Ka'ena Point is a special place in many ways.  The 59-acre Natural Area Reserve is managed by the Hawai`i Department of Land and Natural Resources and is home to the only albatross colony on Oahu and a variety of endangered and endemic coastal plants. The reserve also contains a leina a ka `uhane (Spirit Leap), a celebrated legendary place.  It is also the best place on Oahu to see the highly endangered Hawaiian monk seal.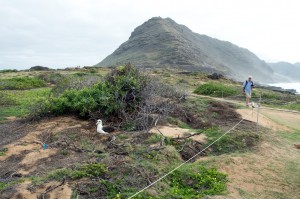 We started the two-mile hike out to the point with some nice surf breaking on our right and cliffs to our left.  It was cloudy and cool; a perfect day for a hike.  We chatted with Tracy and David about albatross and monk seal conservation and Lindsay stopped to show us the results of projects that are re-introducing native plants such as naupaka.  As we neared the Point we saw our first Laysan albatross soaring over the water.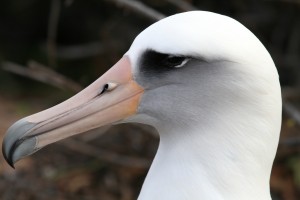 When we reached the Point, we split up into three groups and Lindsay took each one off the path to census the albatross nests.  The adults are currently alternating their parental duty of incubating eggs (a 65-day task), so Lindsay gently coaxed each one to sit up so she could check on the status of the egg.  Their partners are foraging at sea – we watched one come in for a landing near its partner.  Interestingly, there are many female-female pairs here, a trait that Lindsay chalks up to a lack of an adult males in this relatively young colony.
We also spent some time watching several monk seals sleep, surrounded by interested humans.  Mitigating the potential disturbance caused by visitors is one of the major challenges facing monk seal conservation in the main Hawaiian islands (we'll find out about a different set of challenges in the Northwestern Hawaiian islands tomorrow).
Lindsay has been leading a project to introduce an anti-predator fence to protect nesting seabirds at Ka'ena Point.  Dogs and mongooses have already destroyed a fifth of this year's nests; rats and mice are also a problem.  The fence will prevent these predators from entering the reserve and enhance the survival and breeding success of the albatross and petrels that breed here.  It's exciting to see how the hard work of a small number of dedicated people can have such dramatic conservation benefits.  We are looking forward to returning next year to see the fence in place and perhaps helping with the predator removal.
After a lunch at Killer Tacos we returned to the University of Hawaii and made our first visit (OK, OK, my second visit) to the dreamy, frozen wonder that is Yogurtland.  Last year's class will know exactly what I mean…