As the wind subsided, we ventured to Eastern Island to experience the role of history in our future…
At the mercy of the wind, we were excited to finally have weather suitable for the short boat ride over to Eastern Island, one of the 3 islands that make up Midway Atoll.  Unlike Sand Island, where our activities have been focused to this point, Eastern Island is uninhabited and accessible only when accompanied by Fish and Wildlife or National Marine Fisheries Service staff.  As Tracy Ammerman of the Fish and Wildlife Service guided us across the island, she prompted us to consider the site in terms of both the Battle of Midway and the Battle for Midway.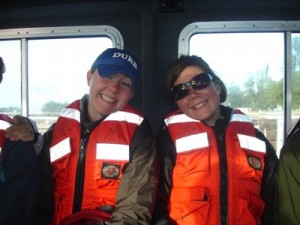 The crumbling runways that we crossed were a reminder of the island's role as air operations center during the Battle of Midway in the hot summer of June 1942.  It was difficult to imagine 1,000 men inhabiting this now deserted island and awaiting a Japanese military that was approaching with superior equipment.  A World War I tank turret, now surrounded by nesting albatrosses, remains in place as an "instant pillbox", a final resource in case the Japanese successfully landed on the island.
Reminders of the island's history stand in contrast with thriving avian successors.  The restoration of the island's ecosystem is the current Battle for Midway.  With less of a human presence than Sand Island, Eastern Island has been the successful target of an ongoing fight against invasive plant species as well as habitat restoration for 2 endangered birds, the short tail albatross and the Laysan duck.
Mindful of the dense albatross nesting ground, large restoration projects are limited to a 3 month span, August through October, when the birds are out to sea foraging.  Such restoration projects have fueled many of our conversations regarding moral responsibility to restore habitats that have become unbalanced due to human disturbance.  For example, the short tail albatross, now critically endangered, was reduced from 7 million to 2,200 birds due to feather trade, introduced predators, and habitat decimation.  Today, we saw one of the 4 short tail albatrosses that reside among a plastic decoy colony on Eastern Island that is intended to entice them to nest.  While many of us agree that it is our responsibility to restore the population, we have raised questions about how to intervene without further disrupting an intricate ecosystem and how much human presence should be permitted to the monument.
Reflecting on the sometimes contradicting goals of history, restoration, and conservation, we walked along the cluttered beach, even more heavily polluted than Sand Island because it is not accessible for cleanup efforts.  Thoughts of the difficult questions that we will be facing as environmental managers were interrupted by my exciting discovery of a glass ball, a treasure among the debris.  The old, hand blown Asian fishing floats have largely been replaced by plastic replicates and are a rare treat to find.  Despite my exciting souvenir, the international source of the debris highlights the extent of human influence, unbound by borders, marine monuments, or even eras of history.