We arrived on the big island of Hawaii on Saturday, and Sunday was our "off" day – some people went on various hikes and trails, some went to black sand beaches, and some of us (sadly) stayed at the house to work on our Masters Projects.  We're staying in Kailua-Kona, walking distance from the waterfront, which is lined with lots of shops and restaurants, and of course, a beautiful view of the ocean.
Today, we went out with Wild Hawaii Ocean Adventures, a company that takes visitors offshore to look for whales and seabirds.  And boy, did we see them today!  Wild Hawaii Ocean Adventures, or WHOA, took two trips with us today – their boat is small, and allows a much more personal, up-close experience, but as such we split into two groups.  I was fortunate enough to go out with both groups today, as there were a couple extra spots on the afternoon trip.
In North Carolina, we are lucky to be close to Cape Hatteras, the closest-to-shore part of the continental shelf break on the East coast.  To reach the shelf break there, you still have to travel about 30 miles offshore.  Here on the Big Island, the ocean drops to a depth of 6,000 feet just a couple of miles from shore!
On the way out of the harbor with WHOA, we stopped to see some spinner dolphins (Stenella longirostris).  These animals come in to the shallow bays close to shore during the day to rest, as they spend all night offshore foraging.  Unfortunately for the spinner dolphins, many commercial tour companies have taken advantage of their resting close to shore and offer snorkel and swim trips where you "encounter" the spinner dolphins.  It's a controversial issue, as tour operators don't want to lose business, but managers and scientists worry that all the humans in the water disturb the dolphins while they are trying to rest.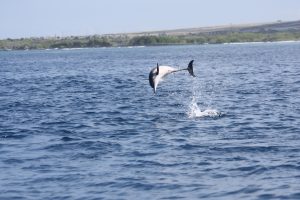 After watching the spinner dolphins, we continued our journey offshore.  We encountered at least 9 different seabird species: Wedge-tailed shearwater (Puffinus pacificus), Sooty shearwater (Puffinus griseus), Hawaiian petrel (Pterodroma sandwichensis), Bulwer's petrel (Bulweria bulwerii), Leach's storm petrel (Oceanodroma leucorhoa), Red phalarope (Phalaropus fulicarius), Brown booby (Sula leucogaster), Arctic tern (Sterna paradisaea), and Sooty tern (Onychoprion fuscatus).  SI learned today that red phalaropes usually spend the winter months off the coast of Peru, before flying back up to Alaska for the summer.  We wondered if this year's El Nino affected their migration.  I also learned that red phalaropes are the only shorebird that can land on the water.  They like to sit in the Langmuir cells – convergence zones of winds that look like streaks of smooth water on the surface.
About 90 minutes after we left the harbor, we spotted a pod of short-finned pilot whales (Globicephala macrorhynchus).  These animals travel in family groups, which sometimes come together.  We saw at least 50 or so in the morning trip, and more in the afternoon.  In the morning, the whales were all relatively close to each other, but in the afternoon they were more spread out and heading further offshore.  In the afternoon, we saw quite a few spyhop (when the whale sticks its head straight up out of the water), and we also saw a calf breach a couple times! The pilot whales came very close to our boat, which offered some amazing looks.
On the afternoon trip, on our way to look at pilot whales in the same area we had spent the morning, we happened upon some marine debris that had attracted Mahi Mahi (Coryphaena hippurus), a very popular and beautiful fish!  Commonly called "dolphinfish," mahi are typically blue and yellow, with a very block-shaped head.  On both trips, we also saw Oceanic whitecap sharks.
On our way back to shore in the morning trip, I spotted something dark at the surface, which tired out to be a group of beaked whales.  Beaked whales are the dive masters of the whale species – they hold their breath for very long periods of time, and dive to great depths.  Because they spend most of their time diving (or ascending to breathe), they are rare, especially on a commercial whale watch boat.  These were as Blainville's beaked whales (Mesoplodon densirostris).  Males have the most dense bone (their jawbone) out of any mammal species on Earth!  We were fortunate enough to see 5 of these animals together, and they stayed at the surface for about 30 minutes.  Male Blainville's beaked whales have large tusks on their bottom jaw that protrude up above the top jaw.  One of the whales we saw today had tusks that had barnacles on them!  They all came incredibly close to the boat, and KC was able to stick his GoPro camera in the water and record some incredible footage of the encounter!  Even Andy, our resident whale expert and very well-traveled whale watcher, could not believe it.  He continued to tell us, "you all have no idea how lucky you are – you will never see anything like this ever again."
While we didn't get to see the Blainville's beaked whales again on the afternoon trip, we did see two sea turtles, and we got some pretty awesome views of the pilot whales.  So both trips were very successful.  As one of the "whale people" on our trip, I really had a great time today, especially because the spinner dolphins, pilot whales, and Blainville's beaked whales were all new species to me! And even though they are all so different from each other in terms of behavior, anatomy, physiology, and everything else, whales – of any and all species – never cease to amaze and inspire me.  Just hearing their exhalation of breath at the surface reminds me how beautiful this planet is, and how important it is that we continue to conserve and protect our ocean and all its inhabitants.