I found one! I found one! – Adventures in Monk Seal surveys!
As Amy and Heather have mentioned in previous blogs, everyday a few of us get to accompany Tracy from NOAA on her Hawaiian monk seal surveys.  This morning Leela and I got the chance to tag along.  This was one activity I was especially excited about because we would get the rare chance to bleach and get close (legally) to a Hawaiian monk seal.  Not many people I know can say that!  On the survey we were able to visit some of the closed beaches on the island which was also very exciting.  We started nice and early and saw evidence of seals almost immediately.  The seals tend to move around in the sand to get comfortable and create little wallows which we could see in various places on the beach.  Leela can attest that these wallows are quite comfortable.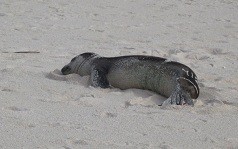 Not long after that we happened upon our first monk seal of the day, soon to be bleached Y11.  After watching Tracy bleach a seal to see how it was done it was now my turn.  We happened upon a very small yearling that had no bleach marks.  One of the issues occurring with monk seals in the Northwest Hawaiian Islands is increased competition for food and a higher likeliness of getting attacked by sharks which makes their lives a little bit tougher than the monk seals on the main Hawaiian Islands.  So when I say this guy was small, he was small.
A perk being on the closed beaches is getting to see some historical artifacts you may not see elsewhere.  No matter how much vegetation or wildlife has taken over on this atoll the rich and vast history that this place holds will always be here.  Where we were on South Beach lies the remnants of a military "pillbox".  One or two Marines were placed in these small cement cubes with a small hole in the back to enter and a small slit in front to fire from.  In the Battle of Midway these men were practically sitting ducks fighting for their lives and our freedom.  The pillbox on this beach had been perfectly intact until a recent storm caved some of it in.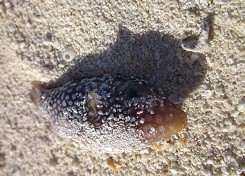 While we were walking the beaches scanning for monk seals we also got to see a variety of other exciting things. We saw the beautiful Red-tailed tropicbird whose largest nesting population lies on Midway.  We also saw other fun things on the survey such as pretty colored sea urchins, Portuguese man-o-wars, pieces of pretty blue lobsters, and a washed up fish we believe to be a box fish (feel free to correct me on that one).  We also were able to see the unearthed old Chevy's again. (More pictures can bee seen in our picture gallery)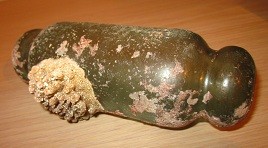 Early in the survey an amazing thing happened.  There we were, walking along keeping our eyes peeled for monk seals when in the middle of the beach we saw something out of the corner of our eyes.  What could it be? I was sure it was just a glass bottle.  But as we got closer we could tell it wasn't just a glass bottle.  Could it be?  It was! I found one! I found one! A highly coveted Japanese glass roller!!  These rollers are used as floats in certain Japanese fishing gear and tend to wash-up on Midway.  We were told before we came on this trip that these were "the" thing to find.  These are one of the few things we can find and take off Midway with us since they are man-made and not a historical part of Midway.  This little beauty will be coming back with me and I'll be the envy of the town, or at least Andy Read.  I must say there was a bit of a casualty this trip.  While a highly coveted thing was found, a more expensive thing was lost.  Unfortunately I managed to drop my Flip cam somewhere along the beach.  There was a small area of possibility of where it could have fell, but the presence of monk seals hindered a group search.  I will be willing to take any donations to aid in replacing said Flip cam.