Today was definitely an exciting day – our last day on Oahu and our arrival on Midway!
After two consecutive days of getting up early for Ka'ena Point and the fish auction, we enjoyed a leisurely morning on Oahu. The majority of the group still got up relatively early and took the bus down to Waikiki to spend the day at the beach and eat some puka dogs (hot dogs in delicious buns with tropical relish). The parents reading this blog will be happy to know that, surprisingly, there were no horrible sunburns as a result of the beach trip! A few of us hung around the East-West Center to go for a run or the gym, finish some work, and hang out on the UH Manoa campus.
At 2:00 pm, we checked out of the East-West Center, crammed all of our luggage into the van, waved goodbye to Yogurtland, and headed to the airport. This year, we were a bit spoiled with our plane to Midway – it was a jet with classy wood paneling and huge windows. It also made the trip in about three hours – a big improvement over the last year's prop plane's flight time of five hours!
The quick flight was filled with excited chatter about arriving on Midway. Midway is a unique spot, both in terms of its history and the environment. Midway is best known as the location of the Battle of Midway during World War II. Midway is also part of the Papahanaumokuakea Marine National Monument, and it is home to approximately 70% of world's Laysan albatrosses.
It was dark when we touched down (hence Heather's "I can't see anything, but it's really exciting!" quote) and we were met by a very welcoming group of Midway staff. We loaded ourselves onto golf carts (there are no cars here) and rode to Charlie Barracks, our new home for the next ten days.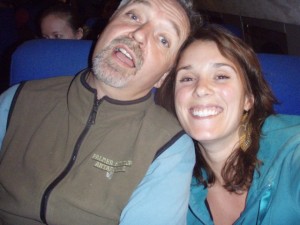 It is difficult to express the incredible number of albatross here on Midway, but we'll get some pictures posted tomorrow once there is daylight. On our ride to the barracks, each side of the road was filled with albatross after albatross. Some were sitting on eggs, but we also noticed a few eggs that had been abandoned. Midway has recently experienced very high winds and strong storms, which may have ruined more nests than are normally abandoned in a typical breeding season.
After meeting Darlene, who is in charge of administration here on Midway, we put our luggage into our spacious rooms and headed off into the night (and the sea of albatross) to Captain Brook's bar. We enjoyed a few beers, some tasty pizza, and a game of Apples to Apples (is creamed corn really "flirtatious?") and then headed home to get some rest before our first full day on Midway.
As I write this, the night air is filled with albatross calls and the clicking sound of their beaks. We are all excited to embark on the greatest adventure of our lives…