Reflections from 41,000 feet.
Day 13: Remember to Remember
Going, going, gone. We're 41,000 feet somewhere over the mighty Pacific Ocean on our way back to Honolulu. We've just spent 13 excellent days together between Oahu and Midway Atoll, and the life-changing experiences are plentiful.
We've seen beaucoup albatross, Bonin petrels, Spinner dolphins, sea turtles, and fish, and we have walked beautiful white sand beaches in search of endangered Hawaiian monk seals. Sarah Spielger and I have joined forces to bring you a reflection of our trip.  Enjoy!
Sarah: Living on Midway Atoll for nine days was a transformative experience.  From the moment we stepped off the plane and into the waiting limos (aka Midway golf carts), there was a sense of wonder and magic in the air.  We were greeted by thousands of magnificent albatrosses as we walked to breakfast each morning.  We walked carefully as we traversed the island so that we would not crush the Bonin petrel birds that nest underground and come out at night to forage for food.  This was a perfect metaphor for our responsibility as environmental managers to tread carefully when making conservation decisions, on Midway Island and beyond.
Pati: I am a communicator and marine conservationist with a keen interest in sea turtles and the coastal communities that affect and manage these species. I have met great people throughout my professional and academic career who have helped guide me through the sea of marine conservation issues facing us today. While I am greatly indebted to them, the thousands of days spent in the office or the classroom could not have prepared me for the invaluable lessons that I have learned from time in the field, experiencing ecosystems in their entirety and the people who manage these precious resources.
Sarah: Many decisions have been made over the years on Midway Atoll that have transformed the landscape.  Soil was shipped in by the tons, changing the biological ecosystem of the islands.  The Navy has left a legacy of dilapidated buildings and lead paint that poisons many albatross chicks each year.  On the other hand, many good decisions have been made.  In 1996, the Navy relinquished ownership of Midway to the U.S. Fish and Wildlife Service.  As a parting gift, the Navy had the rats on the islands—whose preferred meal was albatross chicks— exterminated.  This has lead to the emergence of the largest nesting albatross colony in the world.  Midway is alive and bustling with the musical language and choreographed dances of the albatross.  The U.S. Fish and Wildlife Service recently received a large grant to dispose of the lead paint on Midway.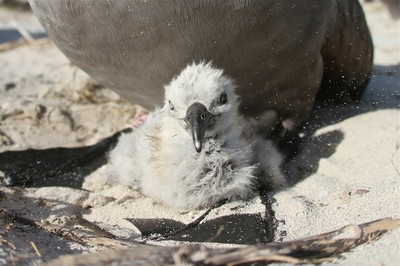 As I sat on the beach after dinner tonight next to a nesting albatross, staring into his brown eyes, I was struck by the realization that we have all come to appreciate this week: Midway Atoll, after all the human intervention over the past century, now exists for the wildlife.  All decisions are made for the wildlife first, the people second.
Pati: Our class is composed of a wide array of people with different experiences, interests, and backgrounds. Some of us came into this program directly after undergraduate school, and others returned to academia after several years in the working world. Regardless of our backgrounds, we've all been able to learn from Midway's evolving landscape and the management challenges that have come with each transformation.
My mother always says, "Remember to remember" such a simple phrase that holds true, especially when managing natural resources.  We are the next generation of conservation leaders.  Field courses such as Marine Conservation Biology will help us remember to remember why we're here and what to consider when making or influencing important conservation decisions. Connecting decision makers to the resources they manage is integral.  Get your hands dirty — or wet, in our case — in order to make the best conservation decisions.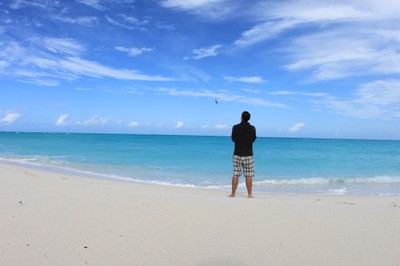 Sarah: As we move into our future careers in far-flung corners of the world, I know our class will remember our time on Midway.  Since our cell phones where inoperable and tossed aside for nine days on this remote atoll in the Pacific Island, we had time to form invaluable bonds and relationships with Midway staff and volunteers, and with our amazing professor, Andy Read.  And of course, the most memorable relationships we formed were with the spectacular wildlife.
Midway Atoll reminds us that the world and our ecosystems are fragile, interconnected systems that need to be cared for and loved by people who are thoughtful, informed, and passionate about conservation.
We must continue to build and strengthen the relationships in our society that allow us to work together to preserve and protect the priceless natural world.   And of course, we must always remember to watch where we walk, to tread lightly, and to look out for petrel holes.

Pati: As a side-note, I think I can speak for the entire class in thanking Andy not only for making this trip a reality but for his patience, guidance, knowledge, and tireless upbeat demeanor.
In addition to thanking our professor, we'd like to thank all of the wonderful people who have taken the time to meet with us throughout this trip.  Special thanks to Charles Littnan, Tracy 'Dyno-mite' Wurth and the NMFS Hawaiian monk seal program, David Hyrenbach, Lindsay Young, Sean Martin, NOAA's Pacific Island Regional Office, Darlene Olsen-Holst, the U.S. FWS crew at Midway Atoll, and many more amazing people who took great care of us and made our experience possible.
Mahalo nui loa.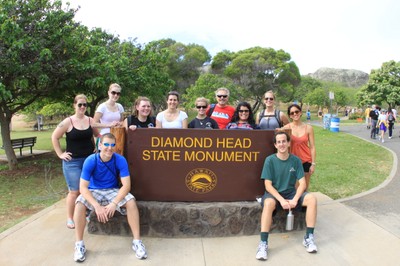 Additional thanks to Dan Maxwell for images in this post.