Small scale fisheries management, dehydrated jellyfish, agua de Jamaica… and it has only been our first day.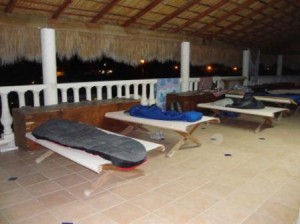 We arrived to Kino Bay yesterday evening after a day of traveling and shopping for groceries. We slept on cots on the roof of one of the buildings of Prescott College field station. There have been some northerly winds blowing for the past couple of days and we had our first taste last night: I thought the palm roof was just going to be blown away!
We will be in Sonora (northwestern Mexico) for a couple of days as we explore de Sea of Cortez and we learn about small scale fisheries, coastal indigenous communities and management and conservation of marine resources for the class 'Governance of socio-ecological systems' taught by Dr. Xavier Basurto.
Today we went to Kino Viejo – the part of the bay where a lot of the fish houses are set. Over there we talked to Mario Rojo and Cesar Moreno, from CoBi, a local NGO. Mario explained to us a little bit about the context: Kino Bay has around 5000 inhabitants and fishing is the most important economic activity here.
Mario and Cesar explained to us how fisheries management works in Mexico for small scale fisheries: although the government tries to regulate them through fishing licenses, the informal set of rules is what truly governs this socio-economic system. The picture became extremely complicated very quickly due to the number of actors and the various roles they play, which is why we have postponed this discussion until we can map it all out… in a blackboard!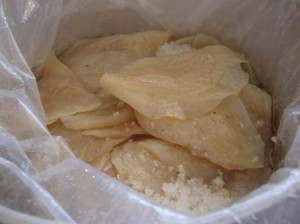 Afterwards, we walked around the beach and had the opportunity to talk to people involved in the jellyfish fishery, which is fairly new in the area (it has been around for only about 4 years). Juan Carlos, one of the fishermen, talked us through the process of catching and processing jellyfish to export to Asia. It is very interesting: in a small skiff dubbed panga, a couple of fishermen catch the jellyfish with gear similar to a butterfly net (feel free to insert a Sponge Bob Square Pants joke here). Then, they take the catch to shore where it gets loaded to a truck that ships it to the processing plant in Kino, where it gets dehydrated and salted (not to mention treated, so it loses its blue coloring), and then it gets packed and shifted to Asian markets. Connie, one of our classmates, mentioned that she has tried them and that jellyfish are used in Asian cuisine more because of their texture than their flavor.
We were extremely hot –after all, we are in the middle of the Sonoran Desert- so we stopped for some refreshments. We got some aguas frescas from 'La Michoacana' (I had agua de jamaica, which is made out of hibiscus flowers) while we listened to Selena's biribiri-bambam song. We were all smiles.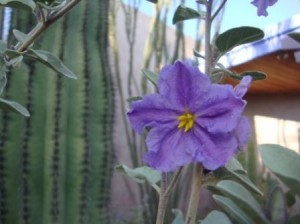 Seeing Mexico and the Sea of Cortez through my classmates' eyes is exciting. I feel like I see it for the first time. However, feeling the heat, looking at the contrast of red and so many shades of blue, the friendly people, and the mix of the desert and the ocean just reminded me how much I missed this place and how I can't wait to come back.