When I woke up this morning and un-zipped my tent flap I was greeted with a stunning view and the startling realization that I was another year older (wiser).
Today was my 27th birthday and I had the once in a lifetime opportunity to spend it on Tiburon Island- far away from family and friends in the middle of one of the most beautiful places I had ever set my eyes on.
It took a few minutes to let my new status sink in and let my eyes adjust to the bright morning sun reflecting off of the Infiernillo Channel in front of me. So here I am 27 years old and sitting on the banks of "Little Hells" Channel.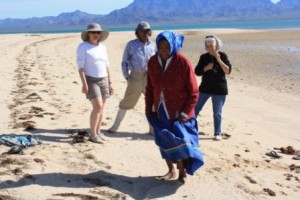 After breakfast, Cleotilde and Don Alfredo perform a traditional Seri puberty dance in my honor since the Seri do not typically celebrate birthdays. In fact, nobody seems to know for sure exactly how old Seri elders Cleotilde, Don Alfredo and Manuelito actually are (I think I am starting to like this idea). We all watch as Cleotilde dances rhythmically around a circle drawn in the sand. When the singing and dancing are over, Don Alfredo announces that I am officially eligible for marriage (oh great). Let's just say that this was not exactly something I was hoping to be told when I was already having a hard time accepting being 27.
After the ceremony, Don Alfredo walks over and wishes me a happy birthday. He tells me that I remind him of his daughter. I feel a rush of happiness and gratitude as Don Alfredo warmly pats my shoulder and smiles. It might be millions of miles away from a conventional birthday celebration but how many people can say that they received a traditional Seri puberty dance on their birthday? I let my anxieties of getting older and the unspoken pressures of becoming an old maid ease out of my mind.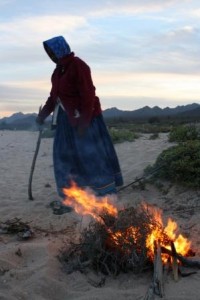 Later in the afternoon, Cleotilde showed us an old Seri technique for cooking smoked mussels in the sand using desert brush. The mussels were delicious but even more amazing was watching Cleotilde teaching her granddaughter, Claudia, a traditional Seri practice that she had never seen before.
That night after dinner Xavier, Kathy, Claudia, Omar and my wonderful classmates "surprised" me with birthday cupcakes. Even though the desert wind had already blown out a majority of my candles for me, I looked around and couldn't help but laugh. Everyone is smiling back at me huddled together under the billowing (minus one leg) kitchen shelter shouting at me to hurry up and blow out the last two candles. It might not be a nice restaurant, but Tiburon Island is not a bad place for a birthday.