On April 10, 2016, I dropped three quarters into The Carteret County News-Times paper stand on Front Street, smiling at the front page photo and story visible through the clear pane. It was the day after the very first Girls Exploring Science & Technology (GEST) event at the Duke Marine Lab, and I wanted to save this physical story that encapsulated a moment many of us worked hard to organize.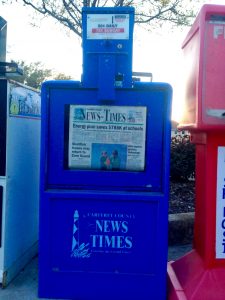 Buying the paper allowed me to skim through other articles that aren't freely available online. An editorial piece caught my attention with the topic of climate change. I became deflated yet also enflamed in outrage as I read through the op-ed which claimed climate change was a "huge hoax." Climate change is not an opinion to believe in, but a quantifiable pattern backed by scientific evidence. How could the News-Times print this when their front page story celebrated forward progress for females in STEM and praised energy conservation in local schools?
And more recently, the same column printed an editorial in which the writer praised President Trump's decision to exit the Paris climate agreement.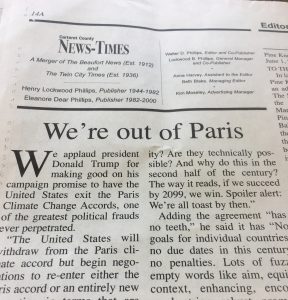 Someone should write a Letter to the Editor to set the facts straight, I had thought. Someone needs to explain how climate change is affecting our coastal landscape and economy. Someone needs to explain the benefits of accountability in our quest to decrease carbon emissions.
I didn't believe I was qualified to be that someone, in regards to both my newspaper writing experience (zero) and the fact that I was not a climate scientist. That someone would also need to carve time from their schedule to pull the letter together, time that I had prioritized for other tasks and responsibilities.
Over a year later, I regrettably recognize that I needed to be that someone, or at least needed to find others to help. You can, and should, be that someone too.
Why You Should Write a Letter to the Editor for Your Local Newspaper
Writing a letter to the editor is one of the most efficient ways of reaching large audiences. The Carteret County News-Times has an approximate readership of 20,000 people, much more than we could otherwise communicate with via outreach efforts.
Readers also include members of local government, who we especially want to reach. Frequent letters about a certain topic will convey that a sizable group of people care about it.
A letter to the editor is a very short piece of writing, meaning that you don't need to invest an inordinate amount of time in it. Shoot for less than 200 words.
Tips for Writing a Letter to the Editor
Being new to this myself, I've summarized tips I learned from other websites, which are linked in the text below. 
Connect your letter to a specific article, op-ed, or topic recently covered by the newspaper.
Structure your letter in 3 parts: refute or promote a certain claim made previously, provide reasons for your stance, and then suggest what needs to happen now.
Write from your own perspective and show how the topic relates to your local community.
If you have expertise in the topic you're writing about, let the readers know.
If you're trying to convince a government representative, refer to them by their full name (it'll be more likely to make it to their desk).
Stick to a single point. Have more points to make? Write more letters.
Be respectful – don't attack anyone when expressing your concerns.
Be brief, no more than 200 words (refer to specific newspapers for their rules).
For Marine Lab residents, The Carteret County News-Times is available at our campus library if you want to get a sense of the length and format of letters they publish.
If writing alone seems overwhelming, assemble a group. Brainstorm some topics together and compile the facts. Edit each others' letters and provide encouragement.
How to Submit a Letter to the Editor
Check the newspaper's website for submission instructions. Below are instructions for Beaufort and Durham residents' local papers.
The Carteret County News-Times: Email letters@thenewstimes.com OR mail to Letters/P.O. Box 1679/Morehead City, NC 28557.
The Durham Herald Sun: Submit this online form.
The (Raleigh) News & Observer: Submit this online form or email forum@newsobserver.com.
Indy Week (Raleigh, Cary, Durham, Chapel Hill): Submit to backtalk@indyweek.com. See their instructions.
The Chronicle (Duke University): Submit this online form or email chronicleletters@duke.edu.
Will you join me in my goal to write a letter to the editor? If yes, feel free to share in the comments below what topic you plan to write about.