"The new bridge," which we are told will open Jan. 29, has been an ongoing topic of conversation at the Marine Lab since construction began several years ago. The new high rise bridge connects Beaufort to U.S. Highway 70, replacing the Grayden Paul drawbridge. The drawbridge closure will alter transportation routes for Beaufort residents who work on Pivers Island, home to the Duke Marine Lab and NOAA's Beaufort Lab. Accompanying this change, Beaufort previously received grants from North Carolina to plan for improved biking and walking throughout the town. Beaufort has hired consultants to draft a transportation makeover plan, and they're soliciting public comments and feedback throughout the design process – including a recent town symposium in December.
After living in Beaufort for 3.5 years in close proximity to the high rise bridge construction, it's easy to feel the contentiousness of this topic. While many residents eagerly await the opening of the new bridge, those who live and work in downtown Beaufort and Pivers Island are not as excited. The new route will add miles to our commutes, and riding a bike or walking to the Marine Lab will be practically infeasible. Additionally, I've witnessed how construction has disproportionately affected residents in affordable housing units on Turner Street in Beaufort. In addition to tractors working directly outside their homes for years, these residents will experience a much busier road once the new Turner Street bridge entrance opens this spring.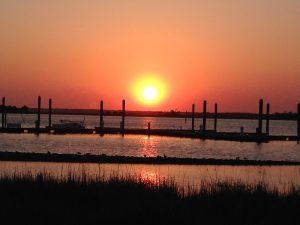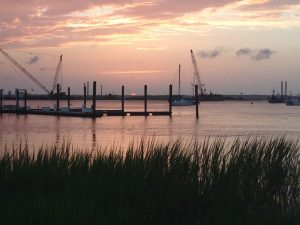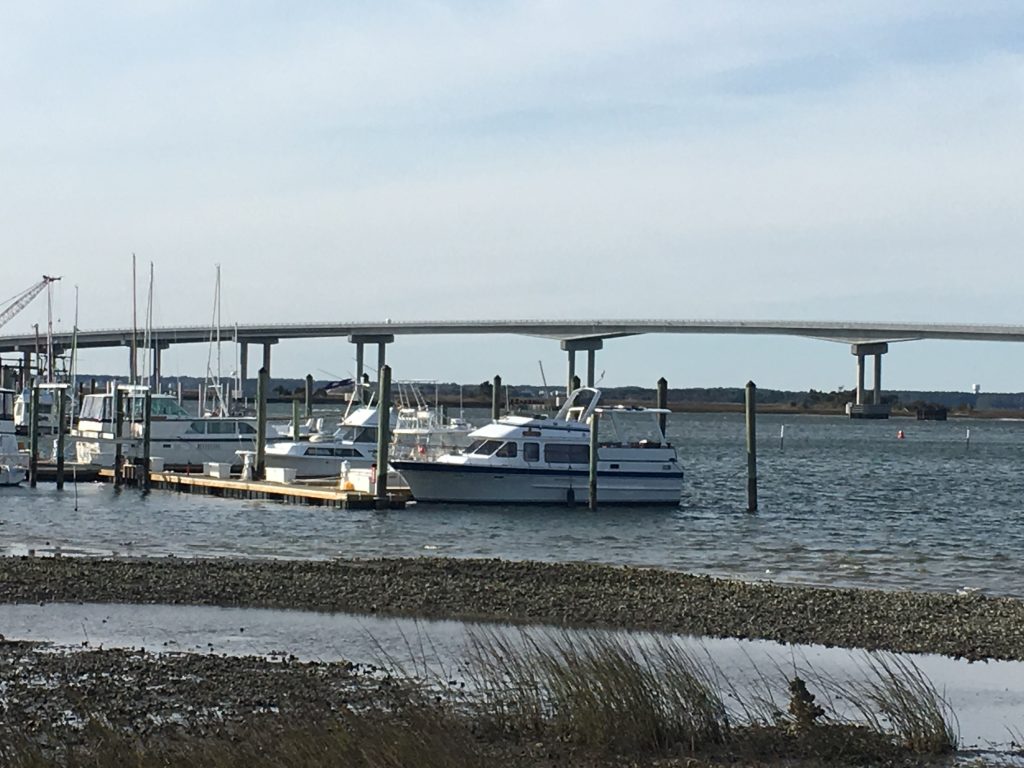 The public has had opportunities to influence the new layout of Beaufort, though. For example, a new park will open in the space which currently leads to the decommissioned drawbridge, and residents had the chance to communicate what they'd like to see in the new park.
Furthermore, Beaufort received a planning grant necessary to improve biking and walking around town, and has solicited public comments for the planning process. The town hosted a Transportation Symposium on Dec. 13 to gather public opinions about what changes are needed.
I attended the transportation meeting in an attempt to contribute to the voices of biking commuters. Upon arriving, each participant received stickers to place on a map – one sticker for where you lived and one for where you worked. We also used stickers to vote on different options for Beaufort's development, safety measures and more (for example, what type of crosswalks most appealed to us).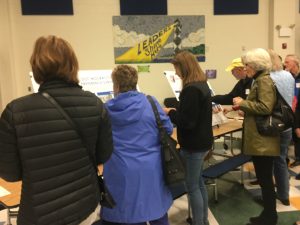 After we completed the preference surveys and browsed various maps and infographics, the meeting started with an introduction from Beaufort's new mayor, Duke Marine Lab PhD student Rett Newton. Next, the hired planning company, Stantec, took over to introduce their planning process and poll the audience. They are tasked with designing a more walkable, bikeable town with high connectivity.
It became clear that this type of planning discussion was not new to the senior residents of Beaufort, who made up the majority of the participants. Rather, it seemed these types of discussions had been ongoing for perhaps decades, but without substantial achieved changes. This time would be different, we were told.
Most of the meeting consisted of interactive polls, in which the audience used clickers to submit their answers to questions such as 'Which streets in Beaufort most need improvement?' (The most popular answers were Cedar Street and Live Oak Street).
The town is also planning for development. In addition to questions about transportation and pedestrian safety, we were asked questions such as "Which of the following would you need to leave Beaufort for?" Options included 'go to the movies,' 'buy dress shoes,' 'see a veterinarian' and 'buy a 48-pack of toilet paper.' The dress shoes and movies won. A couple residents spoke up at this point, commenting that they wanted to leave town for some of these things (i.e., they didn't want a Walmart in Beaufort).
Finally, in small groups we marked up a map of Beaufort to show where we had concerns. My group consisted of another 20-something resident and a retiree who coincidentally earned his PhD at the Duke Marine Lab many decades ago. I made sure to highlight the need for transportation options to Pivers Island after the drawbridge is taken down. Although we were told the new high rise bridge has a wide shoulder (i.e., a breakdown lane), that doesn't necessarily mean that biking is perfectly safe and feasible. When the high rise bridge opens, car traffic to Pivers Island will increase and those who rely on biking will be forced to change their sustainable transportation habits. There is talk of a ferry system from downtown Beaufort to Pivers Island, though currently it seems like more of a pipe dream.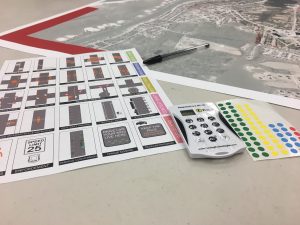 Although installments such as bike lanes, lighting and sidewalks can make walking and biking in Beaufort safer, not all needed improvements can be incorporated into an infrastructure plan. The way drivers react to cyclists is just as important as safety installments, and these reactions will take time and cultural shifts to improve, even after passage of bike-friendly laws.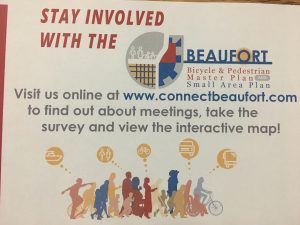 You can provide your opinions about transportation planning in Beaufort by visiting www.connectbeaufort.com to take an online survey and provide input on an interactive map of Beaufort. The map allows you to mark routes that you currently walk/bike, routes that you want to walk/bike and routes that need improvement for reasons such as safety. You can also attend upcoming events in the spring where the public will have more opportunities to provide feedback on proposed designs.
Although none of these transformations will take place while I'm still living in Beaufort, there will be students after us who have similar concerns. As Rett has expressed, it's important for students to take an active role and become connected in the community. Plus, I'll probably want to visit again someday.