R.E. Lee Memorial Church in Lexington, Virginia has a quite well done Labyrinth directly behind the sanctuary (to the left of the wider views below).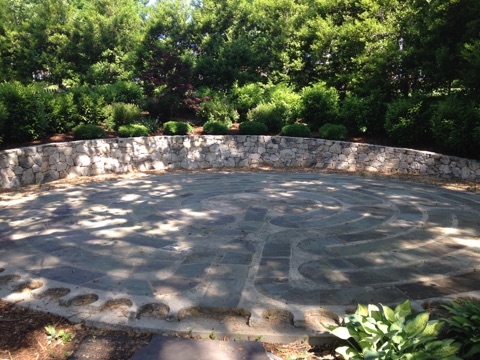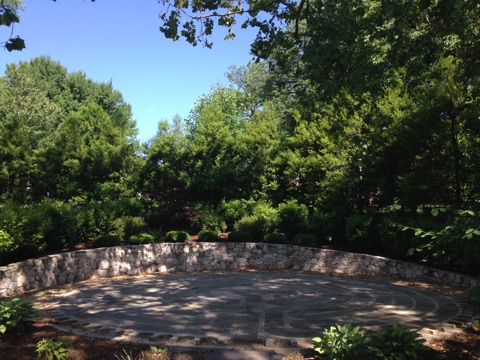 While this Labyrinth juts into the campus of Washington & Lee University, it is set apart with bordering trees and shrubs. A large sycamore is to the right of this camera view, providing shade.
Information about the Labyrinth is provided on a small fence to the left of the camera. The back of the sheet can be viewed below.
At St. Paul's Lutheran Church in Durham, NC, there is a large columbarium in what they call their memorial garden.
It is a curved wall which forms the boundary of a concrete circular area. Here is the view looking back from the columbarium.
If you are thinking what I'm thinking, you are imagining a labyrinth in this space– or you are imagining a columbarium as a wall for the labyrinth above.
This seems like a good idea, and if you were thinking it you are not alone.
One of the top returns from a google search for "columbarium" and "labyrinth" is St. Timothy's Episcopal Church. I suggest you take a look at their page, which illustrates how they have nicely integrated their columbarium and labyrinth. Additionally, they mention having a prayer garden at this site.
Just a brief note, a columbarium provides an alternative memorial site to a burial. The conventional burial process involves an untasteful use of compounds and energy. The demand of physical space is also extensive. A columbarium is a good alternative at least for these mentioned reasons. Perhaps an even better alternative are "memorial ecosystems" where conservation funding is linked with creating occasions for remembrance for loved ones (see here).
I will be exploring an integrated labyrinth/columbarium design with my congregation in Raleigh, NC. I welcome any thoughts from others.