World Duke was the title of the Feb. 19 performance at the Reynolds Industries Theater, featuring eleven performances – the cultural backgrounds of the performers numbering more than that.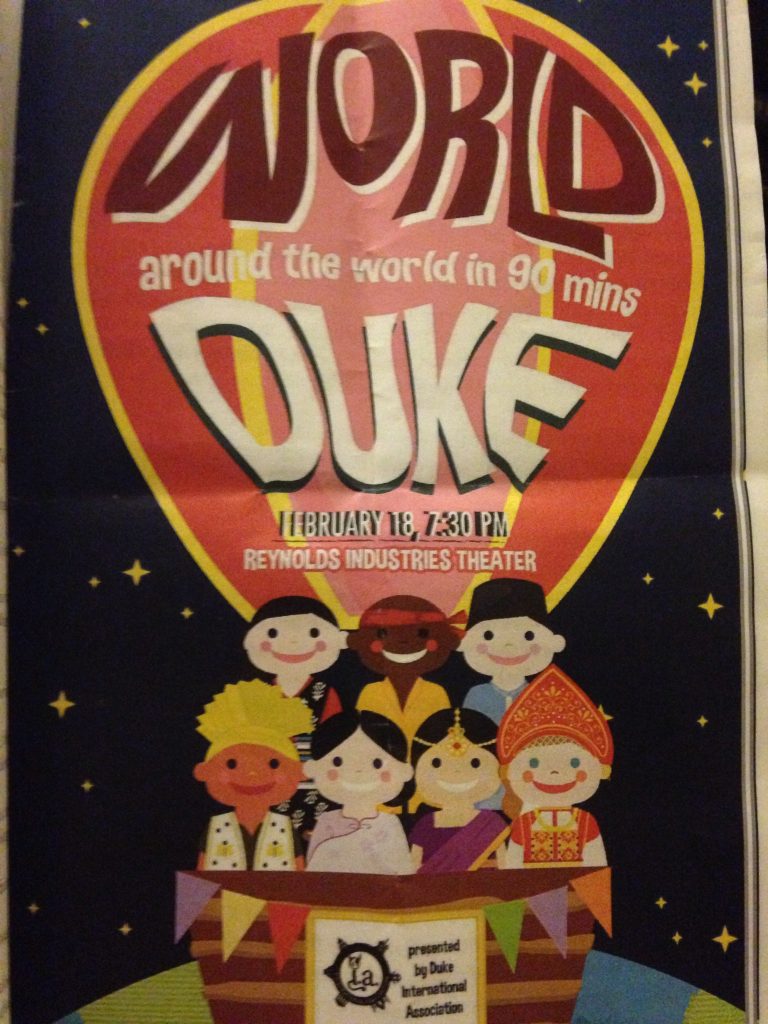 The concept – as indicated by the subtitle "Around the World in 90 Minutes" – was to allow members of the Duke and Durham community the opportunity to see the culturally diverse range of talented students at Duke. I do not have the facts in mind, but as a major research university, Duke attracts students to its classrooms, labs and theaters from far reaches across the globe.
On this night, a few of my Nicholas School friends and I enjoyed this rare mix of song, dance and poetry. Our only complaint was that 90 minutes felt a bit too quick for such a trip. I would have enjoyed another 90 minutes. It was, in fact, my night off.
I commend each of the performances, for what was clearly a lot of practice and a fair measure of talent.
I was particularly impressed by the Amandla chorus, which is described in the brochure as "a Duke first and only African chorus." Also noted is the groups intent "to share the rich, diverse and empowering African culture with the Duke community." My understanding of African musical traditions is nearly non-existent, with one tangential exception.
That is my purchase of Gino Sitson's Bamisphere when I was in high school. That album is an eclectic mix of African style vocalizations with jazz musical pairings. For my introduction to this work, I can thank one of my high school employers, a laundry service where I was able to catch NPR's evening Jazz program while driving around dirty laundry. It was better than it sounds. In this segment, Sitson's album came highly recommended. From that strange angle into African music, I can't say I had any expectations, but I can say that I was happily surprised.
My second favorite performance was by Divya Dhulipala who sang "Thode Badmash Ho Tum" from the Bollywood movie, "Saawariya." Here it was not the compelling group dynamic which caught my attention, but rather it was what I thought to be really great singing.
I suspect the performers of the eleven acts enjoyed the opportunity to share their gifts with their friends and the broader Duke community, but I can say that it was an enjoyable evening "around the world" for me – even if it was 90 minutes too short.