I went for a walk up to the peak of the mountain, feeling dismayed at the patches of treeless land visible below me, streaks of Earth cutting the forest into parcels.
I had spoken with one of the older woman in the village the day before. Her words—vivid descriptions of a road-less, rainy, wild space now crisscrossed by human progress— haunted me.
Starting back down the hill, I stopped to admire a few flowers poking through a barbed wire fence. They grew up in artistic tendrils, softening the harsh metal barbs and treeless landscape behind them. I knew that someone had planted them here, next to a few saplings were coming through the ground as well. I felt my face warm into a smile.
We live at both a disastrous time, and one at which I think we might look back on as the beginning of a great awakening.
There was a story in the New York Times recently by Sabrina Tavernise, titled "White Americans Are Dying Younger as Drug and Alcohol Abuse Rises". The disturbing piece explained that recent increases in deaths among whites from between to their mid-20s and their mid-50s were so large as to bring the life expectancy of the entire racial demographic down in 2014.
Tavernise explained, "The pattern had puzzled demographers, but the recent analyses have pointed to suffering and anxiety among working-class whites".
It seemed fitting somehow, that the next couple of articles that I stumbled upon that day spoke of the healing properties of being in nature—as if the Universe felt compelled to bring the cure right to my doorstep.
The Atlantic published over two years ago an article about the power of nature to "reset our mind and bodies". The pieced explained that "people who are exposed to natural scenes aren't just happier or more comfortable; the very building blocks of their physiological well-being also respond positively."
Studies showed that patients heal more quickly—experiencing less pain and suffering from fewer bouts of depression–when exposed to natural views. While urban environments drain us, natural landscapes recharge our brains, reduce stress, lift moods, and enhance focus.
National Geographic also recently published an article about nature, announcing research completed by David Strayer (a cognitive psychologist from the University of Utah), demonstrating that people did 50 percent better on creative problem-solving tasks after spending three days in the wilderness. It reported several other studies as well, and stated perhaps most excitingly that researchers have found "a lower incidence of 15 diseases—including depression, anxiety, heart disease, diabetes, asthma, and migraines—in people who lived within about a half mile of green space."
All of this makes me wonder—could healing the world simultaneously heal ourselves? Is the path to salvation a story of intertwined destinies?
I do know that we can change the world by planting seeds. Deforested, barren land becomes green again, flowers welcoming back the return of the trees, which are perhaps our greatest weapon against climate change. Simultaneously, I think that the trees remind us again what it means to be human—they heal not only the Earth, but all of her lost creatures as well.
I still have hope that each generation may be wiser than the last, that there are people of all nations committed to making this world home again. I'm open to letting a dream carry us into the future…convinced that real change may come in acts of healing.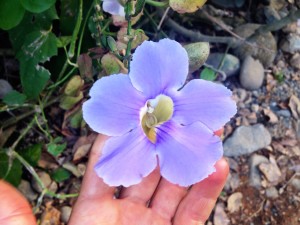 I'm hopeful that in some places, it's already begun.