First days on the road!
After over a year of planning, my boyfriend and I have finally begun our year-long journey around North America.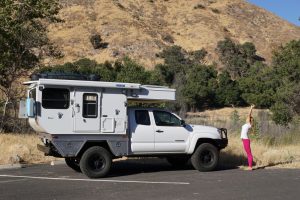 After picking up the rig in Prescott, Arizona, we returned home to LA for a couple days of frantic packing. We did our best to keep our weight down, but it wasn't easy considering we wanted to bring along climbing gear, backpacking supplies, kitchen equipment, and surfboards. The general rule was, if it's not necessary for adventure, it's not coming (special exceptions made for an excessive quantity of almond butter).
After loading up the rig, we headed north up the coast, camping in Los Padres National Forest for our first night. It was amazing to relax for the first time in our new home, enjoying late evening light over IPAs and a bowl of guacamole and chips.
The climate here (and further south as well) has changed dramatically in the last 30 years, becoming much drier. The river that once ran through the park is completely dry, and signs everywhere warn of the danger of wildfire. It was a relief to find shade under native oak trees, feeling thankful for their green leaves in an otherwise sandy brown environment.
The next morning we headed for Morro Bay, stopping for a trail run on the Morro Bay State Park trails and taking a side trip to check out the area's sea otters. Sea otters have made a remarkable recovery since the early 1900s, when only about 1,000-2,000 individuals survived worldwide after suffering from years of extensive hunting. Today, the species has rebounded in most areas, although numbers see to have largely stagnated along the California coast. The animal is considered endangered, and we were happy to see a few rambunctious pups playing in the water and spending time being fluffed by their mothers (a behavior meant to boost their protection from the cold waters).
After lunch, we headed north towards Big Sur, taking in the beautiful, rugged coast along Highway 1. We had planned to search for some dispersed camping options on one of the windy Forest Service roads rising into the hills above the coast, but we were very quickly running out of daylight. By luck, we met two ladies who were willing to share with us their beautiful seaside campsite in Kirk Creek Campground (USFS).
Exhausted after so much driving, we eased into cooking dinner while checking out our spectacular sunset view. The sun quickly dipped low over the horizon, lighting up the ocean in a searing golden streak before fading into layers of pink and purple up into the sky. It felt for the first time really nice to be out on the road…
Up the next morning, we packed up and headed back to Highway 1 again, finding a sneaky path down to the ocean for some time close to the waves at one point. The sea surged into a our tiny bay again and again as we watched, sending kelp beds swaying and spray high into the air.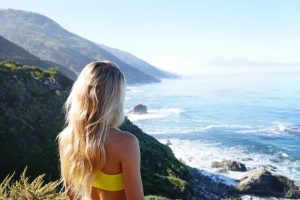 It's incredibly calming for me to be by the sea, even as I worry about our oceans. We've already cut back severely on our plastic use on this trip, something that I was thankful for later in the day as we walked above a rookery of elephant seals. Plastic baggies and plastic wrap have been banned in our rig—and glass jars are slowly beginning to hold and store everything from our oatmeal to snacking nuts. To try to cut down on water pollution, we've transitioned to all biodegradable cleaning and personal hygiene products. These are relatively small steps, but even looking out over the whitecaps, it feels significant. A step in the right direction.
Before hopping back into the truck towards Sonoma, California to visit my aunt and uncle, I took a moment to take my shoes off and walk through the sand, holding on to the feeling of so many small rocks pressing up into my feet. We're heading north now, and I know these warm coastal moments are numbered. For now I'm just feeling thankful for the sunshine and hopefully many more miles of open road ahead of us…