On a rainy Wednesday in April, a van of energy students from Duke University rollicked over to Charlotte, N.C. One of the most exciting locations we got to visit was the Energy Production and Infrastructure Center (EPIC) in the Charlotte Research Institute campus at UNC Charlotte. Housed in this one building is an amalgamation of applied energy research and education from all kinds of industrial corridors.
What did we get to see that was so awe-inspiring? In one of the many labs at EPIC, there were three projects that we got to hear about. Below are my photos from a testing area for high voltage cables, a 5D printer and a Hexagon Precision Metrology Center, which measures things like wind turbines on the micron-scale!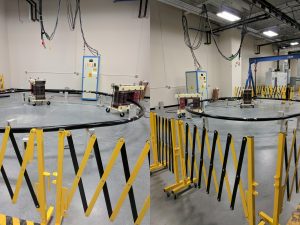 Side by side images of the cable testing area
The super, super, high accuracy measuring device behind closed, but transparent, doors.
Probably the most mundane thing in this lab: some Tesla Powerwalls.
We also visited their Duke Energy Smart Grid Laboratory as well as their HighBay Laboratory. The Duke Energy Smart Grid Laboratory uses the utility's real data to run stress tests and check the security of Duke's service area. The HighBay lab is a high-ceilinged beauty: full of fun activities, conveniently described as "breaking and twisting" everything that can be broken and twisted.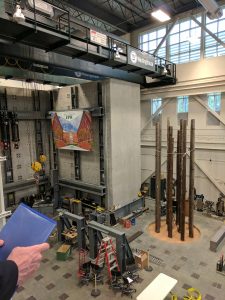 A snapshot of one area of the HighBay lab with Westinghouse's sign, still hanging a week after their bankruptcy announcement.
The wooden poles in the sandpit mimic the pole that hold up power lines in your neighborhood. As those lines go through routine maintenance, technicians are able to strike a piece of metal, not unlike a railroad spike, to see how many years the pole has left. If there was a way to automate that intelligence and give machines the ability to discern the lifetime of these poles, the folks at EPIC will let us know! Another interesting part of the lab lies behind the floor, where flywheels get spun well above their recommended speeds to see when exactly they would literally start coming apart.
---
For any questions and comments, please email me at soli.shin@duke.edu.