I had the immense privilege to be this year's trip coordinator for the annual Nicholas School Energy Club Career Trek. This is an elected position so before I launch into the recap, I want to give a shout out and huge thanks to my fellow Energy & Environment MEMs for having faith in me. This trip would also not be possible with the generosity of the Duke University Energy Initiative. There were so many goodies, soundbites and industry knowledge to fit on one blog post. Here are top 3 takeaways from each visit!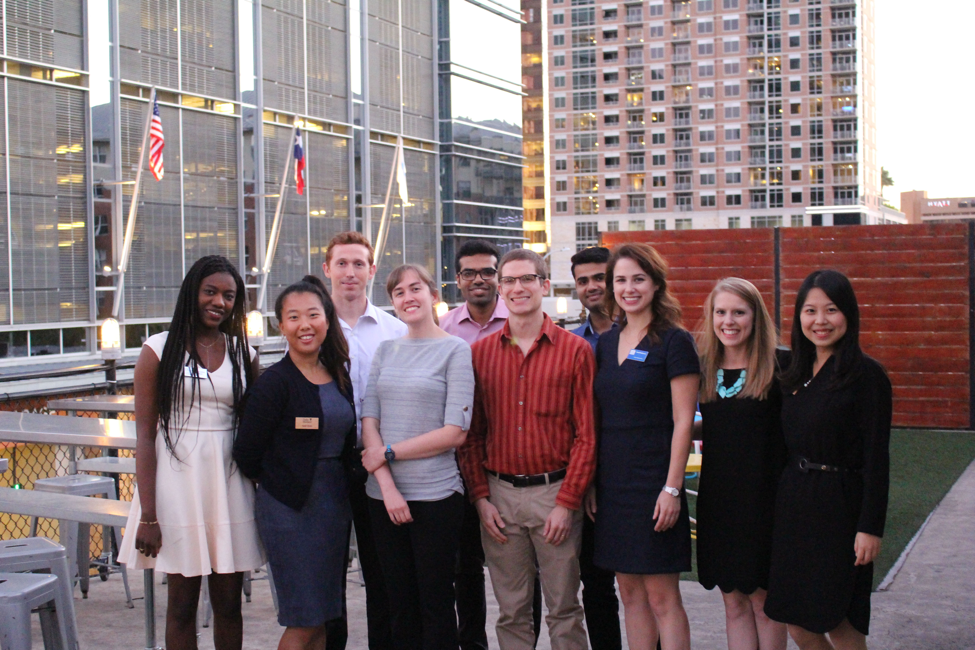 Our trip kicked off with a little bit of the familiar – a cocktail chat with Allison Donnelly (T'14), Project Consultant for Energy and Resource Solutions.
Clients, like utilities, are concerned about measurement verification. If you aren't familiar with that term, it's a nice way to sum up a big question: "Does it

actually

save energy?"

Texas has done a great job of going from a regulated region to a restructured framework, from a retail perspective (Take that, California and New York!).

Energy efficiency is the

first

fuel! The challenge is to overcome non-obvious barriers, outside of telling potential adopters that they can save on energy.
Thursday was chock-full of meetings and our first one was particularly exciting. We met with the CEO of Pecan Street, Brewster McCracken.
Did you know there was a free

database

of Pecan Street's 1-minute resolution data from their PV systems, available for student use?

For solar panels, cloudiness is the biggest variable in predicting rooftop generation. Pecan Street studies have shown that other factors, such as ambient temperatures, matter less.

If the electric grid is a wedding cake, Pecan Street wants to dominate on the 3rd tier; the topmost layer where DERs can help greatly with summer (and winter) peaks.
The Pecan Street lab has a gorgeous view of their Mueller community, a unique neighborhood in Austin designed specifically to be sustainable.
As energy students, you've seen that grainy picture of the an ISO's control room – shrouded in darkness except the monitors alit with green and red numbers. Let me just say, seeing one in real life, like ERCOT's, blew my mind. You don't get a sense of how grand and interconnected a regional grid is, until you see it in IMAX.
We hear about FERC a lot if you're interested in energy policy but ISOs/RTOs mainly get their cues from NERC. The team we met with uses NERC's

Lessons Learned

document into actionable items for ERCOT.

What does ERCOT need more of? Highly-skilled communicators that can take complex, advanced problems and unpack them for laypeople.

What's trending at ERCOT? The potential rise of

DSOs

 – 

distribution system operators!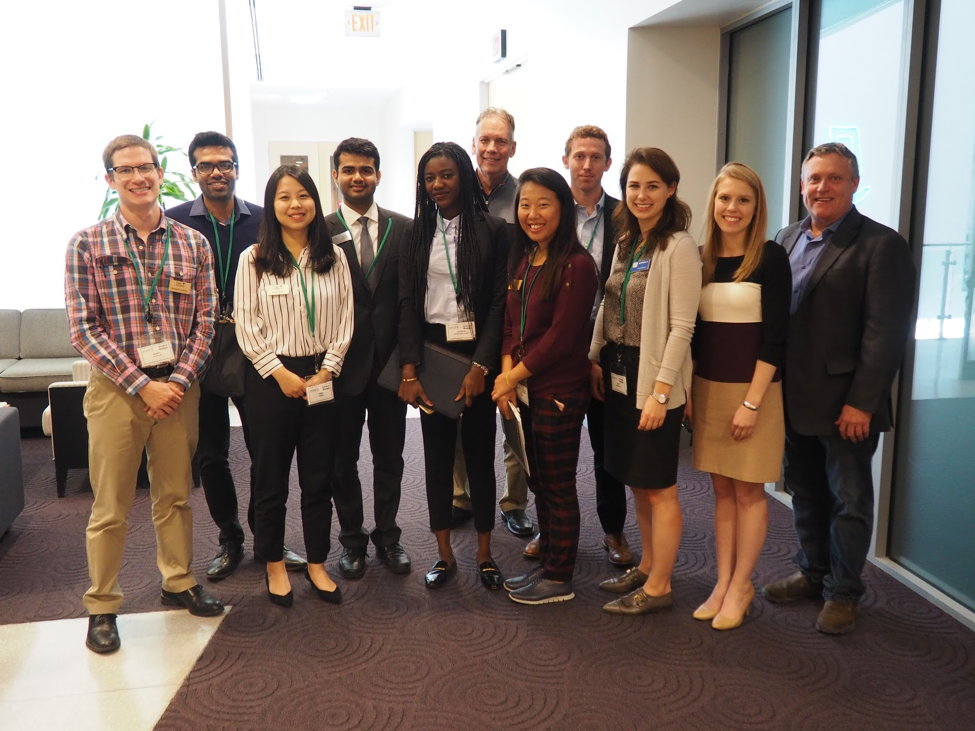 The students meet with ERCOT: Paul Wattles and Joel Mickey
Austin Energy, one of the must sees if you're interested in the electrical power sector in Texas. They are the eighth-largest public utility in the U.S. and are governed by the Austin city council.
Their DOE-backed SHINES project has a goal of net-zero GHG emissions by 2050.

They were one of the partners working with the City of Austin for the Smart City challenge.

There are roughly 120 people moving to Austin per day! This poses serious challenges for transportation and AE's increasing effort to electrify vehicles.
Katy Stevenson discusses Austin Energy's SHINES project.
A fantastic surprise at the tail-end of our Austin Energy visit, Heather House of Rocky Mountain Institute dropped by!
RMI is collaborating with AE to imagine and develop a shared, electric, autonomous transportation sector

For anyone interested in the intersection of transportation and energy, RMI's

Peak Car Ownership

report is mandatory reading.

Taxi drivers put $9,000 worth of fuel in their conventional car per year!
ZPryme is an energy media, research and events company. Some of their clients include utilities who are interested in looking at new technologies and their potential to disrupt.
Their

whitepapers

are available to the public.

They host Austin's very own Energy Thought Summit. This year's topic:

dream in digital

.

What's a good way to incentivize utility professionals to answer surveys about emerging technologies? Amazon gift cards!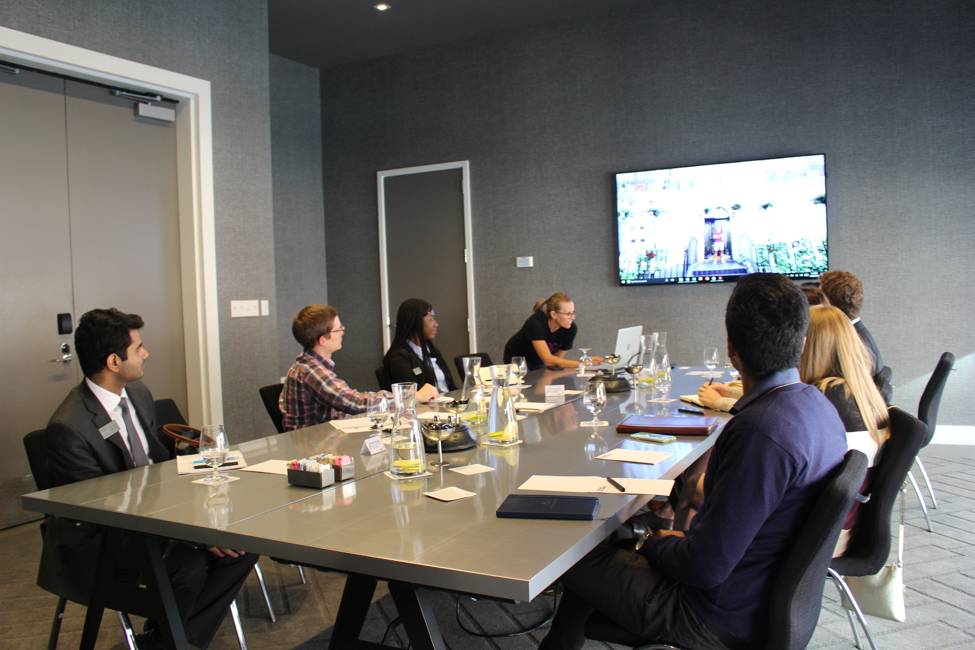 ZPryme's Erin Autin hosting us at The W hotel in Austin.
One of the highlights was visiting Dr. Michael Webber and Dr. Carey King at UT Austin, along with their guest, Juan Torres from NREL.
Juan Torres introduces a new term, used by mainly military forces:

exergy

.

Dr. Webber, author of Energy 101 (aka the Nicholas-EE bible), has penned a new book:

Thirst for Power

.

All of them predict that the new energy trends will focus on components of the grid from the substation down to the integrated components of a home. The power sector is increasingly distributed.
We scored new copies of Dr. Webber's book on the water-energy nexus.
The second day started with conventional sources of energy, and perhaps what Texas is most known for: oil and gas. Our visit to Parsley Energy was informative and educated the group on plays in the Permian basin.
Parsley Energy was only founded in 2010. In the land of oil and gas, they're a company still in their infancy. But their growth in company size and portfolio will speak otherwise.

They started doing "acre-for-acre" trades and swaps in 2016. They unlocked a net of 2.5 million net lateral feet from these 25 different acre-for-acre trades.

In the Q2 of 2017, Parsley was producing 64.7 million barrels of oil equivalents per day.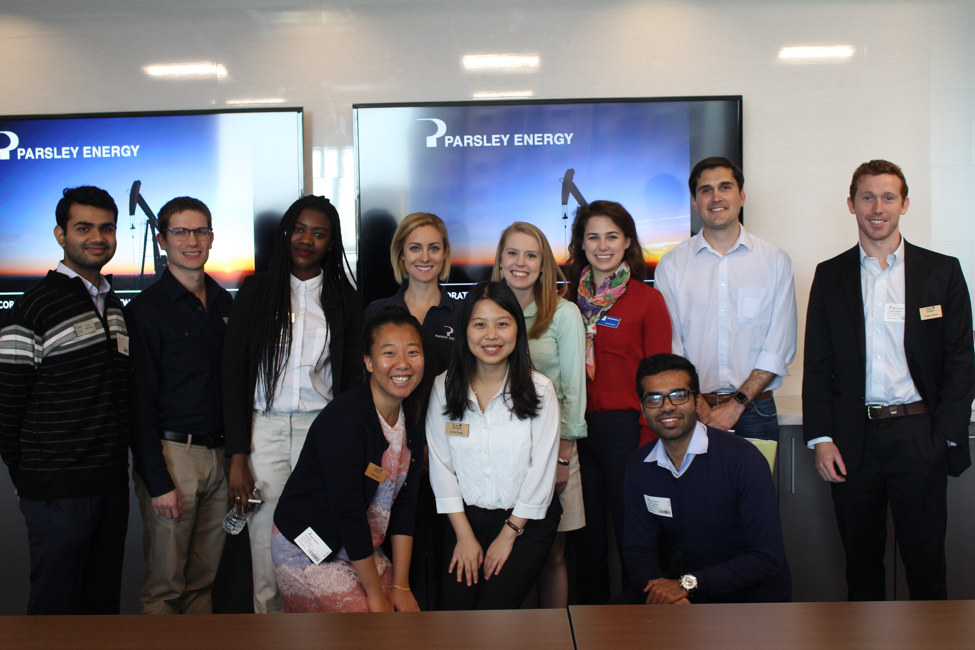 Here we are with Parsley Energy's Katie Simon. She introduced us to four different team members during our visit.
At Lower Colorado River Authority, Lyndon B. Johnson's legacy can be seen right at entrance where plaques in his name adorn the fountains surrounding the building.
LCRA has three (and a half) business units: wholesale power, transmission, water operations and parks (the half)

They are a political subdivision of the state and have the flexibility to function as a business and as an agency.

They have 15 board members, all appointed by the governor.
Our group with (from left) Angie Cole, John Dumas, Ken Price
Last but certainly not least, our group met with NRG. We were hosted by their sustainability group. We had a trip within a trip, as they led the way to the capitol building.
NRG has an office in Princeton, New Jersey, where they have a CHP unit and solar panels.

They were one of the first compliers with the Sustainability Accounting Standards Board.

They have science-based carbon targets.
NRG's wall of consumer products that they acquired (including the Nest thermostat on the third row).