Last December, more than 9,000 negotiators from 196 participating countries attended the most recent United Nations climate conference—known as the 20th Conference of Parties (COP20)—in Lima, Peru. This COP laid the groundwork for an expected international climate agreement in Paris later this year. I traveled to Lima for the COP as part of the Nicholas School's UN Climate Change Negotiations Practicum.
Peru is incredibly geographically diverse— with the Andean highlands, Amazonian rainforest, the Pacific coast and the Nazca Desert—and each area faces unique challenges from climate change. After the COP, I hiked the Inca Trail in the Peruvian Andes. The four-day 26-mile trail travels through only a mere fraction of the 4,500 mile range—the longest continental mountain range in the world. A report by the Center for American Progress claims that the Peruvian Andes "present the most urgent challenges from climate change, migration and security facing the region."
Peru's national GDP has tripled over the last ten years, and Lima's poverty rate fell to from 45 percent in 2004 to 15 percent by 2011. In Lima, most tourists visit the wealthy area of Miraflores, for its parks, rocky beaches and Pacific oceanfront restaurants that serve ceviche, pisco sours and fresh Amazonian fruits.
But there are two Perus. Development outcomes differ between cities such as Lima and the remote Andes. The World Bank reports that a citizen of Lima earns 21 times more than a rural Peruvian, and a third of rural children are malnourished. On the trail, we passed remote hamlets with no running water and homes with sun-drying alpaca meat on their roofs.
Forty-five percent of Peru's population are indigenous peoples, and wealth inequality is widening along racial and ethnic lines. According to UNICEF, 78 percent of indigenous children in Peru live in poverty, compared to 40 percent of native-Spanish speaking children. Mining, oil exploration and infrastructure projects threaten to force indigenous groups off their ancestral lands. Although a 2011 law requires consultation with indigenous communities before implementing development projects, the government ultimately has the final say.
Mining is a lucrative industry in the Andes. Gold, silver, lead, zinc, coal, iron and vanandium (used to make alloy steels) are mined in Peru and other Andean countries, and Peru is third in the global production of copper. Mining exports comprise more than half of Peru's total export earnings, and in 2011 were valued at $27.4 billion. The mining industry drives economic growth in the region, attracting foreign direct investment, creating jobs and raising incomes–but local indigenous communities see little of it. The mining industry contributes to severe environmental degradation, water contamination and air pollution in the Andes. For example, mining contributes to an estimated 13 billion cubic meters of effluents released into Peru's waterways annually.
According to the Peruvian Ministry of Defense (Defensoría del Pueblo) social conflicts in Peru have increased by 300 percent between 2007 and 2012, with more than 40 percent of conflicts related to social or environmental issues. Since 2002, 57 environmental/social activists have been murdered in Peru, making it the fourth most dangerous country in the world for environmental activism. In addition, drug-trafficking in the region finances terrorism, insurgent groups and other violence.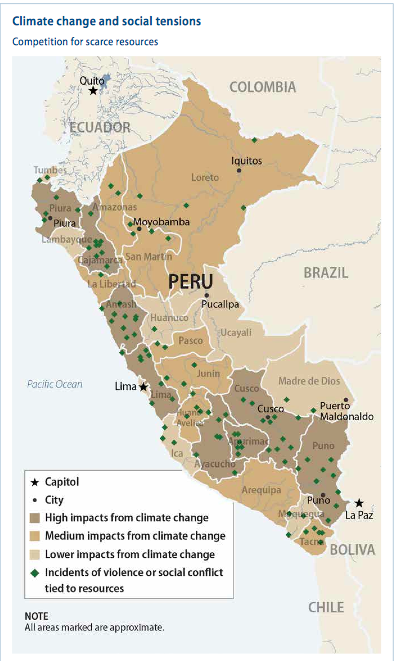 Andean women face unique vulnerabilities because of a lack of educational and economic opportunities and severe environmental degradation from the mining industry in their ethnic territories. For example, more than half of Peru's indigenous women live in urban centers. In cities, indigenous women face discrimination and vulnerable employment in the legally unprotected informal sector. At this year's COP, the Government of Peru pledged to develop a gender-responsive climate change action plan. According to the IUCN's Environment and Gender Index—a measure of gender equality and the environment—Peru is ranked 26th out of 73 countries.
Peru faces an exceedingly difficult challenge in balancing its economic growth with the public interest. Peru also needs to mediate the conflict between resource extraction and human rights violations. But it isn't just the government and private sector that need to acknowledge indigenous rights: conservation organizations, with the intent to protect the natural environment, have excluded indigenous communities from their lands in what is referred to as "green land grabs." Looking forward to COP21, it is imperative that the priorities and concerns of indigenous people are communicated at the negotiations table.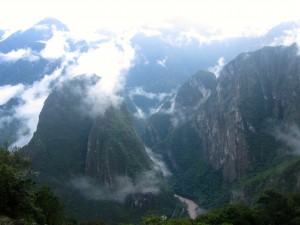 Click here to read more about the UN Climate Change Negotiations Practicum.