Greetings from the nation's capital! At this time of new beginnings, I am excited to kick off this blog to share thoughts about environmental issues and to share experiences in the Duke Environmental Leadership (DEL) program.
I'm still buzzing from last month's DC module where 27 DEL students gathered here in Washington, D.C. to meet with a wide range of leaders and discuss leadership strategies.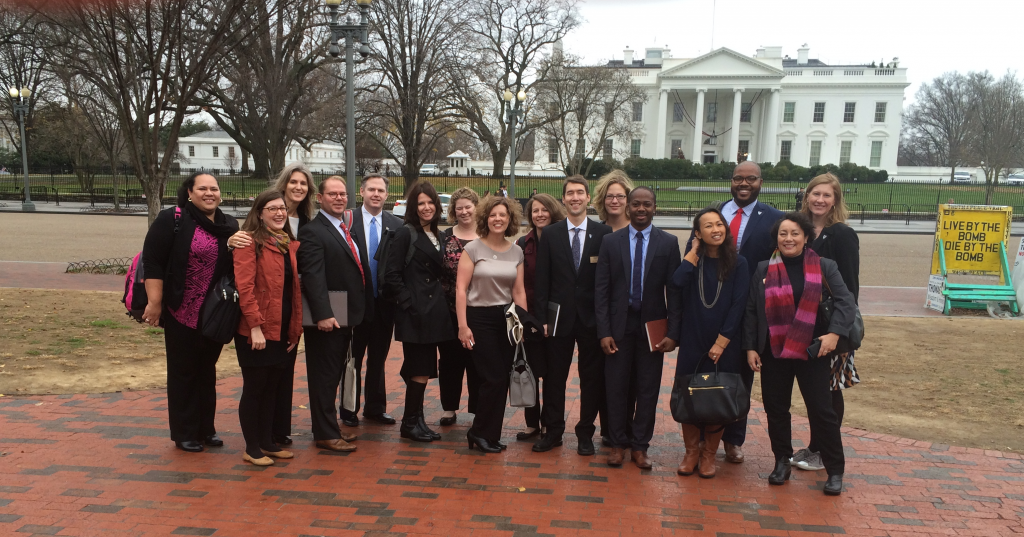 Some thoughts on that to come, but first a little about me:
I came the long route from my suburban New Jersey childhood home to Washington, D.C., via California, where I studied interdisciplinary environmental science and economics in Stanford University's Earth Systems program. My work there included donning hip waders to search for red-legged frogs in the San Francisco Bay Area and hand-feeding butterflies. I learned to use a machete while tracking poison dart frogs' parental care habits over a summer in the Peruvian Amazon and also researched salt uptake of plants on the Chilean coast. Moving to D.C. in 2000, I transitioned to less exotic, though still exciting, research at the Worldwatch Institute. In 2001, we opened the doors of the Earth Policy Institute, where I developed and led the research program. Earth Policy Institute's last book, The Great Transition: Shifting from Fossil Fuels to Solar and Wind Energy, which I co-authored, was released in 2015.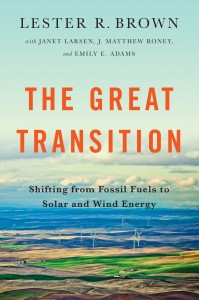 While think tank research has me diving more into reports and interviews than into acidifying seas, book launches and talks have taken me to some interesting places, including Brazil, Iran, Turkey, Denmark, Italy, Portugal, New Zealand, Japan, and China.
Apart from exploring the world, my research passion is in connecting the dots among trends and disciplines. This is one reason why the DEL D.C. leadership session was intriguing. The leaders we met with came from a variety of backgrounds: some legal, some military, others science, business, or policy. They held a range of positions in their varying organizations, yet they shared common sentiments about the important characteristics of leaders. Here is a snapshot of some of the lessons we learned.
WHAT MAKES A LEADER? Leaders are focused on: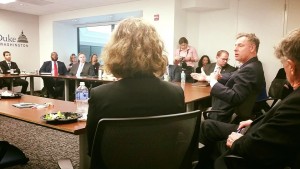 1 – People. Take care of your team, share the credit, and value others.
2 – Mission. Keep your compass pointed in the right direction.
3 – Communication. Clear, consistent, and constant communications, both verbal and non-verbal, are key.
4 – Self-Awareness. Know your strengths and magnify them. Know your weaknesses and find a way to compensate.
5 – Getting Things Done. We were advised a few times: "Don't let perfect be the enemy of the good." In other words, sometimes you need to let go of perfection to make things happen.
It is in the spirit of that last advice that I submit this blog post. I do look forward to delving deeper into these topics in the future. Thanks for joining me!