Forests on Duke's campus were in crisis, just a few months ago, as I wrote previously here at Birds in a Changing World.
Two of the most important mature remnant forest patches on Duke's West campus were scheduled to be partially leveled for construction of new buildings.  But thanks to lobbying by concerned students and faculty, Duke has not only halted or modified construction plans, but the Board of Trustees also approved a resolution formally naming and preserving Chapel Woods and Anderson Woods at its recent spring meeting.
This is a huge victory!
These forests provide important quality-of-life benefits to all members of Duke's campus…and of course habitat for birds!  Just this morning I heard an Ovenbird belting out its song from Chapel Woods.
Chapel Woods is particularly special because hundreds of students walk through it each day to get from the main West Campus quad to the Nicholas School of the Environment and other physical/life science department buildings.  It also provides a sylvan backdrop to Duke's most iconic structure, Duke Chapel.
Plans were underway to expand the engineering building, CIEMAS, into Chapel Woods, but those plans have been permanently cancelled. We were lucky to nip this project in the bud.
In contrast the pending Health & Wellness Center was already beyond the point-of-no-return by the time most stakeholders were aware, with some $2 million invested in planning and design for a site within Anderson Woods.  So that building will go forward, but ostensibly the footprint has been reduced and confined as-much-as-possible to the fringe of the forest.  And the remaining forested areas will be conserved.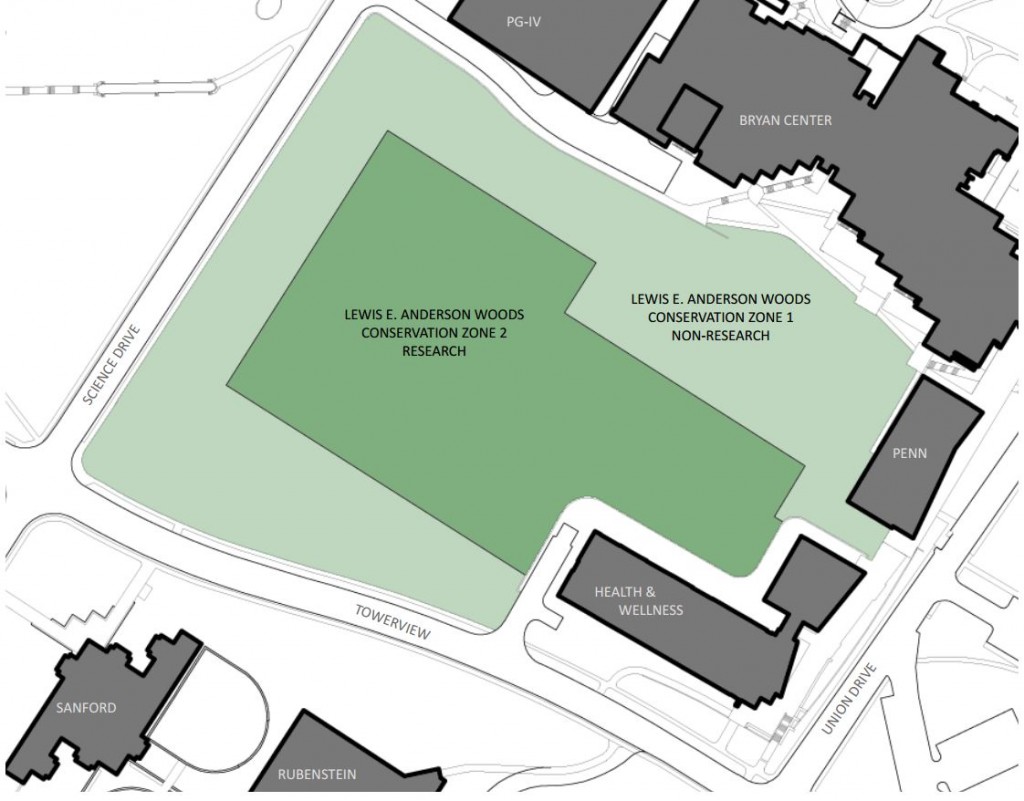 This was the best feasible outcome for Anderson Woods.  Hopefully the views out the windows of the building will contribute to the health and wellness of many future Duke students.
How did the bleak outlook for these forests turn around so quickly?
First, students and faculty from the Department of Biology and Nicholas School of the Environment collectively wrote a letter of protest against the destruction of forests.
Second, the Graduate and Professional Student Council passed a resolution asking the Board of Trustees to formally name and preserve these forests.  I'm tooting my own horn here; I wrote and presented the resolution to the general assembly.  But it was a team effort.  Jessica Lewis, my co-representative from Environmental Science; Stacy Zhang of Marine Science and Conservation; David Kaczan of Environmental Policy, Elizabeth Doran of Earth and Ocean Sciences; all contributed.  Nicholas School faculty members Norm Christensen and Dean Urban also provided valuable advice.
Finally, Duke staff did a lot of work on this behind the scenes, though none more important than Duke Natural Resource Manager, Katie Rose Levin (MEM/MF '12).
It's nice to be able to write about the successful preservation of Chapel and Anderson Woods, especially so soon after bemoaning impending doom of these valued natural spaces.
Duke is unrolling $350 Million in new building projects over the next few years and there is no sign of construction slowing down.  The better parts of Chapel and Anderson Woods will be spared for now, but it will take vigilance from students and faculty to ensure that some forests on campus are preserved as Duke continues its rapid growth over the coming decades.