Today began our first full day of whale observations, krill mapping and whale tagging. And what a spectacular day it was.
After a night of oceanographic surveys we awoke to a chilly, misty morning near the opening of Wilhelmina Bay. We were all in anticipation of getting our first tag of the season on a whale. With the ice extensive cover we saw in the Bay the day before I was concerned about finding whales in the vicinity and our ability to work the small boats in the ice, especially the krill mapping boat which hauls a large, ice-catching, sonar transducer under the stern.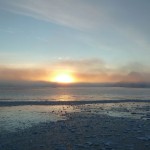 The teams prepared for the day with observers on top scanning for whales and the tag boat and prey boat teams assembling gear for deployment. The tag boat launched first while we assembled the transducers (sonar sounders) for the krill mapping boat. Then we launched the krill mapping "prey boat" and set out to meet the tag boat. While in route we heard the words we had been hoping for on the radio… "tag-on!". Our first whale of the cruise had been tagged with a 24 hour. Now we would follow this whale for the next full day.
Right after the tag went on, a thick bank of fog rolled in leaving us searching for the tag boat and the tagged whale. We caught up to the tag boat and began our krill mapping survey in the area around the whale.
The fog was short-lived and when it blew off we were treated to a truly spectacular day on the water. A perfectly clear sky rimmed on horizon by jagged Antarctic peaks surrounded us on multiple sides. The blows of whales silhouetted on the horizon all around, rafts of penguins, fur seals and Antarctic seabirds darting in and out. It was the type of day on the water you wish you could bottle up and store away because it is too much to take in all at once.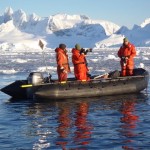 The small boats stayed out until dark (a very premature 4:00pm). When we returned we met up with the rest of the team who reported an equally spectacular day from the observer platform of the N.B. Palmer. 87 Humbacks and 1 Minke observed from the Palmer. Back to work we have a whale to track.
-Pat