Stay tuned as we bring you updates from our new Antarctic research project!
We're currently in Punta Arenas, Chile, waiting for passage across the Drake Passage to the Antarctic Peninsula, where we will be studying humpback, minke and killer whales with a variety of electroLooks like it might be a bumpy crossing….
In Punta Arenas, we have been purchasing essential equipment (coffee maker) and getting outfitted with our Extreme Cold Weather gear, with an obligatory visit to the Shackleton Bar, of course.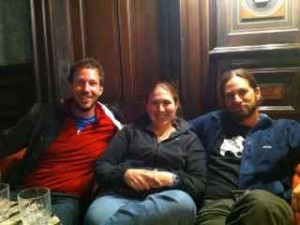 Our crew in Punta Arenas consists of our Ari Friedlaender, Reny Tyson, Matt Bowers and Nick Gales, from the Australian Antarctic Program.  We'll meet Doug Nowacek and two colleagues from NOAA, Boib Pitmand and John Durban, down south.
We'll have more updates very soon!