With all of our science completed, the MISHAP team woke today ready to p.a.r.t.y!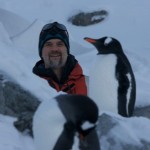 Doug checking out the penguins
The schedule for the day was to launch the zodiacs at daylight so that we could discover Port Lockroy, an old British research and whaling station and currently one of the most popular tourist destinations in the Antarctic.  With the zodiacs aptly named "Awesome" and "Happy Birthday Andy" we made our way over to visit this historic site.  When we touched land, the team jumped off the zodiacs and quickly scurried about, checking out gentoo penguins and running around the station as if we were school children just released for summer vacation.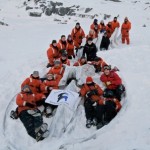 The MISHAP 2009 Team
It was so nice to finally be off of the ship – the power of the silence here is indescribable. Add to that gigantic mountains surrounding you, gentoo penguins waddling about, leopard seals swimming around, whale bones scattered in all directions, and the history of life in the Antarctic- it all made for a truly incredible day.
After building human pyramids  playing 'human' tug-of-war, and chasing each other around during a newfound rendition of tag (leopard seals and penguins), we said goodbye to the snowy land of whale bones and penguins and headed back to the Gould for an evening birthday celebration dedicated to our dear Andy Read.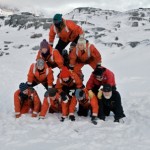 Teamwork = Success
Tomorrow morning we will be back at Palmer Station to start preparing for our trip back home.  A bittersweet time for us all as we have had such an incredible and amazing journey these past few weeks, but we can't wait to get home to see our family and friends.
Stay tuned for our upcoming adventures through the Drake Passage!  And for a completely different (and might I add extremely creative) perspective of today's adventures, check out Chance Miller's blog >.
Happy Birthday Andy