We celebrate our graduate students' big day
Our Antarctic trip is a wonderful opportunity to conduct world-class research in one of the most amazing places on earth.  But the trip also entails sacrifice, as we are away from home for a long period.  And this year four of the graduate students in our scientific party missed their graduation ceremonies to come to the Antarctic.
Dr. Alison Stimpert graduated with a Ph.D. from the University of Hawaii; Lindsey Peavey graduated with a Masters in Environmental Management from Duke; Joy Smith graduated with a Masters in Science from Stony Brook University; and Selina Vaage graduated with a Masters in Science from the University of Tromso in Norway.
All four are integral to our work, so we are glad they are here, but each missed celebrating an important moment in their lives with friends and family.  For most of them, graduation happened this weekend in places very far away.
So what to do?  Well, in the great spirit of improvisation that characterizes everything we do on the R/V Nathaniel Palmer, we threw a graduation ceremony of our own.
And like everything we do (OK, some of what we do), planning was crucial.   So we planned.  And planned.  Graduation exercises are all about pomp, circumstance and ceremony, right?
Pomp?  How about Pat Halpin leading the academic procession with an improvised mace?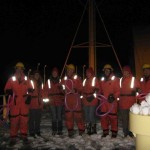 (The mace is also useful as a hand-held radio tracking antenna).
Circumstance?  How about a graduation exercise outside in the snow, just behind the bridge, complete with a formal academic procession and the music to Monday Night Football blaring as we walked? (You'll have to ask Ari about the choice of music).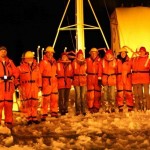 Ceremony?  We were all over ceremony.  First, the balloon hoods, dutifully placed over the heads of the graduating student by their advisor (or a suitable stand-in).  Second, the academic regalia (full float suits and hard hats for the professors, float coats and red hats for the graduating students).  And, last but not least, some quasi-authentic diplomas to lend an air of authenticity (feel free to contact me if you, too, would like an advanced degree).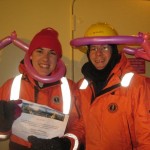 I usually get a little choked up at graduation, but before a tear could start to roll down my cheek, the snow balls started to fly and I had 10 pounds of snow down my back.  Doug was nailed in the face by a rocket snow ball.  Really.  You would think the graduates would have a little more respect for academic institutions, even ones this far south.
So, to our four graduates, their friends, families and loved ones – congratulations, we are very proud of you.
And watch out for snow balls.
Andy