To get to our field site on the Antarctic Peninsula we typically sail on a research vessel, departing from Punta Arenas, Chile and crossing the Drake Passage to Palmer Station.  This year, however, we are hopping a ride south on one of the cruise ships that visit the Peninsula – we leave Punta Arenas today (January 31), stopping at Ushuaia, Argentina tomorrow, and arriving at Palmer Station on the morning of February 3.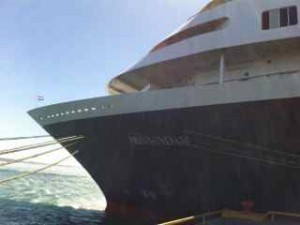 We are aboard the cruise ship M/S Prinsendam, operated by the Holland America Line.  The Prinsendam is enormous – 673 feet in length, with a crew of more than 400 and almost 800 guests.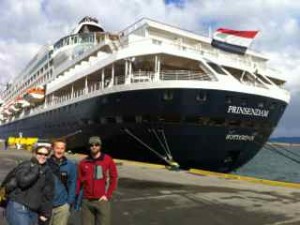 We boarded the ship this morning, had lunch and then walked around this afternoon, looking like, well, tourists.  Here are a few first observations of life aboard the Prinsendam:
1. There is a casino.
2. There are several bars (I am sitting in one as I type, with a piano tinkling in the background – it's happy hour).
3. There is a croquet court (really).
4. There are 12 decks.
5. There is enormous potential for the transmission of gastro-intestinal viruses.
6. My cabin-mate, Nick Gales, and I are two of the youngest people on board.
7. There is no decent coffee on board…
8. But there is soft serve ice cream.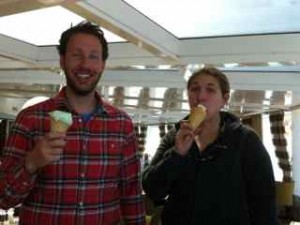 So, it's going to be an interesting couple of days.  In addition, it's been blowing 45 knots steadily today with gusts to over 75 – we could hardly stand up on the pier– so it might be a little bumpy tonight as we make the transit to Ushuaia.
One last thing – when we were waiting to board the Prinsendam today, a security guard came down the gangplank and asked if we were the 'entertainment.'  Really?