This morning Ari, Andy, Nick, Matt, and myself (Reny) left our luxurious cruise ship and were transported to Palmer Station to await pickup from our trusty research ship the Point Sur.  This is the first year we will be working on the R/V Point Sur and it is quite smaller than the R/V Nathaniel B. Palmer, which we used in 2010, and the R/V Laurence M. Gould, which we used in 2009 for our work.  And when I say quite smaller – I really mean it: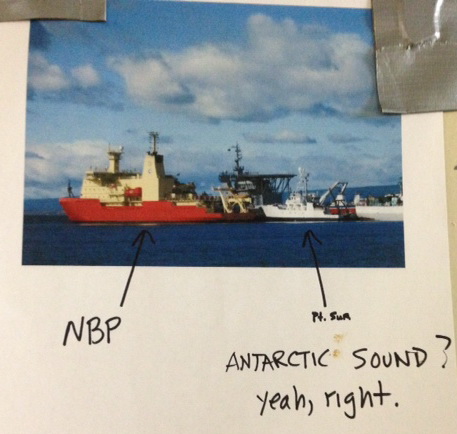 While smaller than our previous ships, the Point Sur seems like it will be a great vessel for the type of work we will be doing on this research trip (tagging, tracking, and biopsying humpbacks and other cetaceans along the Western Antarctic Peninsula).
This afternoon, those of us who were waiting at Palmer station were picked up by the Point Sur and were greeted by a fantastic crew and some familiar faces – the rest of our scientific party: Dr. Doug Nowacek, Dr. John Durban, and Dr. Robert Pitman.  It was great to finally have the whole team together and finally get to work! While the cruise ship was nice, we were all itching to start doing what we do.  I mean who wouldn't be excited to tag whales in the Antarctic??
Much of the rest of the day was spent situating ourselves in our cabins and labs, organizing and testing gear, getting safety and other briefings (e.g., making Matt try on the Survival AKA Gumby suit),  and getting a general handle of the ship (including, most importantly, finding the ice cream locker and candy drawer!).
Even whilst doing all of that, we had time to launch a zodiac and  biopsy three humpback whales who were hanging out in Biscoe Bay.   Not bad for a day's work, if I might say so myself.  The twenty or so hours of daylight we will have during this trip will ensure that we have the time to make the most of these days!
During the next few days we will poke around in some of our favorite bays (e.g., Wilhelmina, Anvord, Paradise) and hang out in the Gerlache to (hopefully) spot and tag some whales. If you want to follow along with us over the course of our trip, make sure to check out this link, where you can follow the track of our ship, the Point Sur.
Now – time to get to (more!) work…