Yesterday we watched the sun set over Tierra del Fuego and ventured from the Estrecho de la Mairre into the Drake Passage.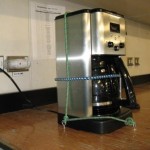 Coffepot tiedown
Before heading off to bed we made certain that everything in our work areas was securely tied down, including laptops, chairs and the precious coffeepot.   This was in anticipation of entering the Drake Passage, where the swells can travel around the entire southern ocean, leading to some of the largest seas in the world (the weather forecast predicted seas up to 8-10 m).
This morning we woke to 3-4 m seas under a grey sky.  There were mixed reports as to how everyone fared last night- some people slept like babies while others were kept awake by the rocking of the boat and the occasional sound of objects shifting or falling to the floor.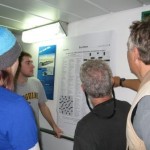 NY Times Crossword
Today was a day for rest and relaxation.  People passed the time watching DVDs and playing Rock Band in the lounge, reading books, working on the Sunday NY Times crossword puzzle (printed on a plotter and taped to the wall for a group effort), and sitting on the bridge looking for marine mammals and sea birds.  No marine mammal sightings today, but we did see both black-browed and grey headed albatross, giant petrels, white chinned petrels, Cape petrels, southern fulmars and a cattle egret who had lost its way (these birds arise from the Falklands and, amazingly, we also saw one last year in the Drake Passage).
Meagan Reading
We will be in the Drake tomorrow as well and anticipate anchoring sometime tomorrow night  just south of one of the South Shetland Islands (possibly King George) to calibrate our on-board fisheries acoustics system.  This will also allow the intrepid visual survey team to do some distance calibration exercises.
A very happy Mother's Day to all our moms- we miss you, but don't worry, we are being safe and having a wonderful time!