After spending a week deploying satellite tags, we have moved onto deploying suction cup tags.  Unlike satellite tags which beam their data back to us, suction-cup tags need to be collected to download their data.  We had a successful deployment this morning on a mother calf pair.  After tagging a whale with one of these suction cup tags, we follow the animal, recording surface behaviors, and make sure we don't lose the $20,000 tag.  This job fell on Reny and me.  While following the whale today, Reny and I experienced all types of Antarctic weather: small stinging snow, big wet snow, sideways snow, rain, freezing rain, and fog. During all of this great weather we observed and recorded behavior.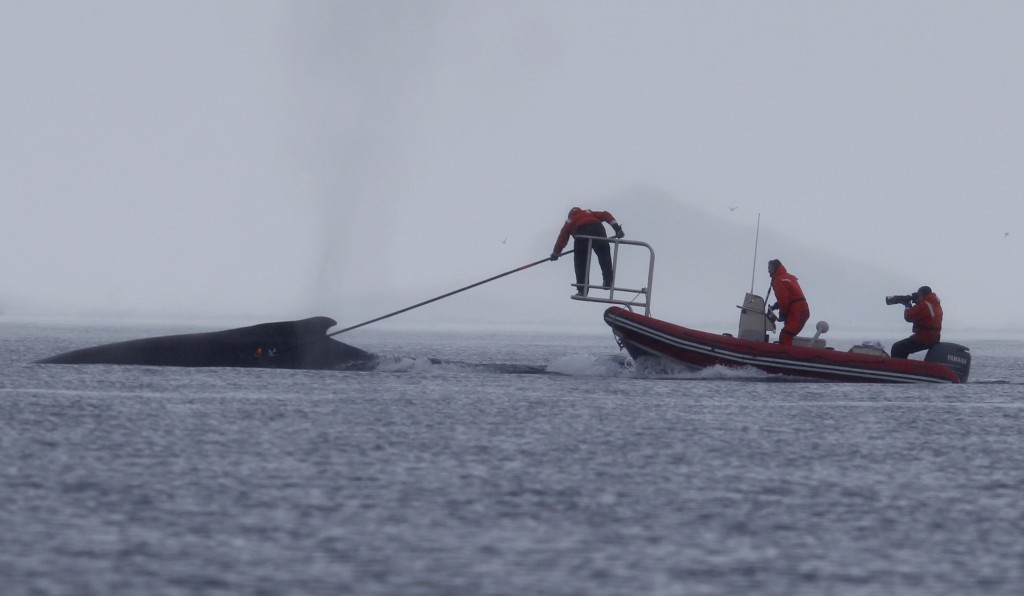 So what does a whale do during the day? From our limited perspective on the boat it appears that humpbacks travel, eat and sleep.  These are the descriptions we record, but they really don't describe a day with a whale. At one point, during the transition from sideways snow to freezing rain, I noted that my feet were cold. About 5 minutes later the tagged whale started lunging at the surface 50 meters from us.  After watching in amazement for 30 minutes, Scott (our driver) asked me how my feet felt.  Needless to say my feet felt fine.
For information on suction-cup tags check out this video that Reny Tyson made for kids.