One of the best things about working down here in the Antarctic is the abundance and approachability of wildlife. This remains one of the few parts of our little planet in which humans are not yet the dominant force.  Of course that doesn't mean that the system is pristine – we killed 2 million whales in the Southern Ocean, plus most of the fur seals, during the last century. Today ecotourism is a thriving activity here along the Peninsula and there is an important (and controversial) fishery for krill as well.
But, most of the time when we are out on the water here we are alone with the whales, birds and seals. So I thought I'd share a few thoughts and images of some of our furry and feathered neighbors with you.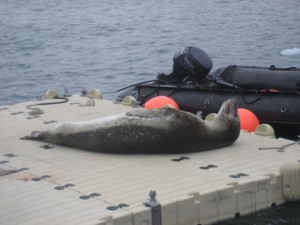 Leopard seals are a common sight around Palmer Station – these are apex predators, sometimes referred to as the grizzly bear of the Antarctic. They prey on penguins, crabeater seals and krill – and are getting ready to feast on the new crop of penguin chicks that are about to fledge. They have been known to bite the pontoons of Zodiacs (ours are covered with an extra layer of protective rubber) and even haul out on our floating dock.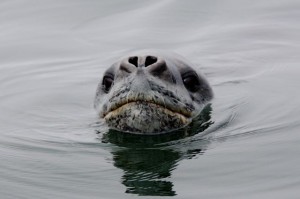 I mentioned giant petrels in one of the previous blog entries, but they are worth another look. These enormous birds live for more than 40 years and can traverse enormous distances while foraging. They nest high up on several of the islands near Palmer Station, including Hermit Island, which Zach and I climbed. Read about Donna Fraser's remarkable work with these amazing birds here.
Fur seals breed in the sub-Antarctic islands to the north of us, but as the summer progresses, we are starting to see them more commonly in the water and hauled out on shore. Their appearance here makes me think of late summer in the northern hemisphere when the days get shorter and neotropical migrants start to make their way south.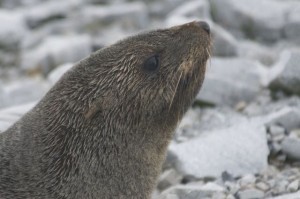 If the Antarctic is on your bucket list, there are a number of ways to get down here, like the cruise ship pictured above and a wonderful trip organized by the Duke Alumni Association. And if you are interested in Antarctic whales, Ted Cheeseman (MEM '00) is organizing a special trip next year – and several of us will be along to share the fun.